One such "remembrance" – about an adventure in old age: Hiking the Camino in Spain…
*   *   *   *
I did my last post on June 6, almost three weeks ago. ("Random thoughts (on 'Socialism,' etc.")
It started off with a note that we were then in the "12th full week of Covid-19," and that we also had to process the George Floyd protests. (Based on his May 26 death.) So I proceeded to remember back to a May 24 post, a "hark back … to This time last year – in Jerusalem!"
Which was – as I noted – most likely "an exercise in escapism." That is, a "mental diversion from unpleasant or boring aspects of daily life." Another note: "Escapism may be used to occupy one's self away from persistent feelings of depression or general sadness."
Or when the world as we know it seems to be "Going to hell in a handbasket."
So here we go again. This time I'm harking back to another variation on a theme, back to 2017's post Last year at this time. Which in turn went back to one year earlier. Here's what I wrote:
*   *   *   *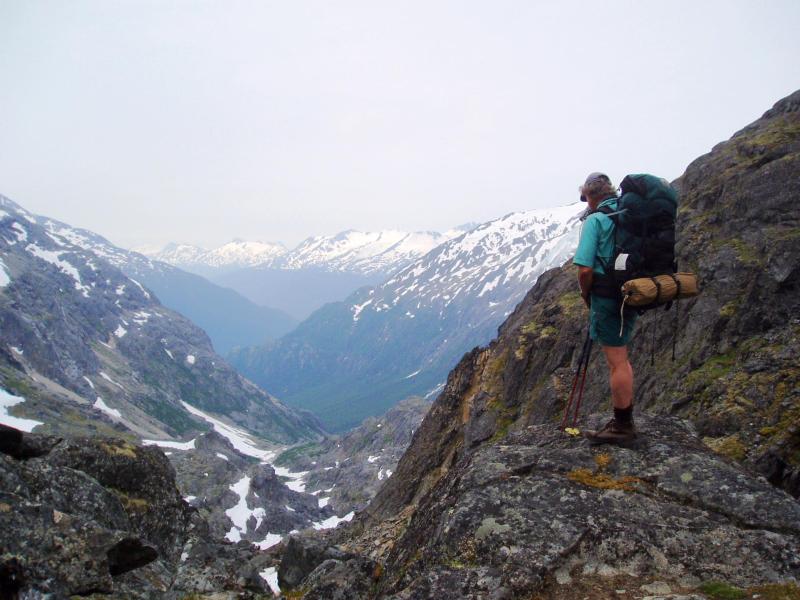 Last year at this time [June 2016] I was training for a four-day "hike" on the Chilkoot Trail.* ([D]eservedly known as the "meanest 33 miles in history," and illustrated at right.)
I was also getting ready – last year at this time – to canoe 440 miles down the Yukon River, in Canada.* That canoe-trip started three or four days after the hike, and took 13 days.
This year at this time [2017] I'm in training to hike 450 miles in 30 days on the Camino de Santiago, in Spain, in September.
*   *   *   *
I made it to Spain in September, 2017, and have now hiked the Camino de Santiago twice. Once in 2017, from Pamplona, and again last September (2019), from Porto, in Portugal. (Where Port wine comes from.) And by the way, we're now in our 15th full week of "the Covid." (Also BTW, for an explanation of the asterisks after "Chilkoot" and "Canada" in the rehash above, see the full post.)
Which brings up the fact that before the Covid struck, I'd hoped – this next September, 2020 – to go back overseas. Back to either Israel or Spain, for yet another pilgrimage. But it was not to be. Instead, my "adventurous brother" – from Utah – just came up with what could be the only viable alternative. The idea of canoeing five days or so down the "lower" Missouri River. (Basically retracing the Lewis and Clark Expedition as they were heading back home from the Pacific, in the late summer of 1806, memorialized above left.)
Accordingly I'd planned to do a "before" post, with preliminary information on the trip. But that will take some time, and a new post is way overdue. So instead I'll present this and other  "Remembrance(s) of Thing Past, in the form of 2018's Last year the Meseta, next year "Porto."
That post has a lot of details on what my brother and I experienced on October 4, 2017. We got into León, in northwest Spain, "for our second one-day break after 20 days of hiking:"
The good news was that once we reached León, we had to switch from hiking to bicycling. (We were running out of time.)  The bad news?  That change just led to "a different kind of hell." (From Dorothy Parker's famous quote, "What fresh hell is this?"  In our case, it only meant a change in where we got sore…)
The other good news? We were finally done with the Meseta part of the hike. That is, hiking through the "Meseta Central plateau part of Spain – and it's dry, dusty and hot. In fact, it's the part that some people recommend Camino pilgrims skip.  (If they want to be all 'wussified.')"
So by October 4, 2017, we'd hiked 250 miles from Pamplona for 20 days, and got to León. And aside from taking a day off in León, we rented two 15-speed mountain bikes. "With them we covered the remaining 200 miles to Santiago de Compostela in seven days. Even though neither of us had ridden a bike in 40 or so years…"
Which is why it wasn't really surprising "when my right handlebar took out – smashed the heck out of – the side-view mirror of some poor slob's nice new car," heading out of Leon. And in a second mishap I literally "ran my ass into a ditch." (See "Hola! Buen Camino!" – Revisited.)
Those were some great times. (As shown at right.)
*   *   *   *
But getting back to 2017's Last year at this time. That post spoke of the the idea of "65 being the new 30." (Or as just checked, of 70 is the New 50. Whatever. I plan on being around a while.) And on my then-just-turning 65, and so being eligible for Medicare. I noted that either way:
There's a lot of living left to do after age 60…
Or after age 69 for that matter. And to help make that happen – and maybe get a date with Christie Brinkley – I did the posts A Geezer's guide to supplements, Part I and Part II…
*   *   *   *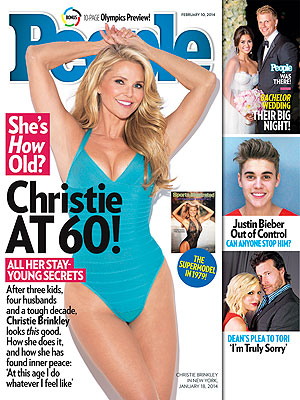 Or "Yours truly at 69" – come this next July, 2020…
*   *   *   *
The upper image is courtesy of Pilgrimage – Image Results. And no, that's not a picture of me. The image goes with an article, An Ancient Religious Pilgrimage That Now Draws The Secular (NPR), about the Camino: "A 1200-year-old European pilgrimage route is experiencing a revival. In recent years, hundreds of thousands of modern-day pilgrims have followed in the footsteps of their medieval forebears, trekking across France to the Spanish coastal city of Santiago de Compostela."
Another thing about the "Chilkoot." I use quote marks because – all things considered – it's not really a "trail" at all, "it's one big frikkin' pile of rocks after another." Except for the glaciers of course…
Re: "Remembrance of things past." That's an alternative title to the novel In Search of Lost Time, "in seven volumes, written by Marcel Proust (1871–1922)." See Wikipedia:
'In Search of Lost Time' follows the narrator's recollections of childhood and experiences into adulthood during late 19th century to early 20th century aristocratic France, while reflecting on the loss of time and lack of meaning to the world.
Hmmm. It seems that some things never change. For some gloomy people anyway…
Re: "65 is the new 30." There seem to be a lot of variations, but see my posts, On RABBIT – and "60 is the new 30″ – (Part I) and On RABBIT – and "60 is the new 30" – (Part II). 
I borrowed the lower image from 2017's Last year at this time. You can also see "her" at the posts A Geezer's guide to supplements, Part I and Part II.