An "alligator mississippiensis," prevalent in the Okefenokee Swamp – where I'll soon be kayaking…
*   *   *   *
It's that time of year.  Time to train for future adventures this summer, and finish some unfinished business from last fall.  The future adventures – this coming August – will include a four-day hike on the Chilkoot Trail.  ("The meanest 33 miles in history.")  
And once that's over,  my brother and I plan a 16-day, 500-and-some-mile, primitive-camping canoe trip "down" the Yukon.  (From Whitehorse, up through Lake Laberge – of 'Sam McGee' fame – to Dawson City.  And the Yukon is a rare river that flows north, so technically we'll be going "up…")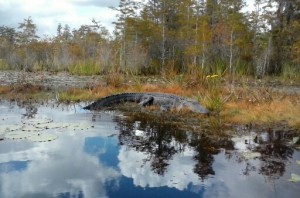 But first things first.  I finally wangled a permit to camp overnight at the Canal Run shelter in the Okefenokee.  Which means I'll be finishing up something I started last fall.
Back in October 2015, I noted – in "Into the Okefenokee" – that I'd finally fulfilled a life-long dream.  "I took my little 8-foot kayak and paddled deep into the Okefenokee."
In a few days I'll be going back.
But last October there was a problem.  The only reservation I could get was for the Cedar Hammock shelter.  Unfortunately, that was a mere three miles from the main (east) entrance.
And that pretty much put the kibosh on my plan to "bisect the swamp."  (See "Okefenokee" – Part II and Part III, where I noted a plan to come in on a later trip from the Stephen Foster State Park – Fargo – to the west.)  So this then will  be that "later trip," upcoming…
But this time I have a reservation at the CANAL RUN shelter.  It is some nine miles in from the Foster State Park launch site.  And that means that if I can somehow reach the Coffee Bay day shelter on the first day, I will have indeed "bisected the Okefenokee."
Of course there were naysayers – recently – when I announced my latest plan.  (With comments like:   Where did I want to be buried, and had I made out my "last will and testament?")
Yet despite it's fearsome reputation – as illustrated by the lurid movie poster at right – the Okefenokee itself is quite peaceful. (That is, if you can stick to canoe-only water trails and avoid the noisy and/or obnoxious air-boats that touristy-types love.) 
So I'm looking forward to my adventure, which will be the subject of a future post.  But first a few highlights, from the first trip:
…a word about permits.  Before you camp overnight in the Okefenokee, you need a permit.  (See Overnight Camping Permits – Okefenokee.)  That costs $15 a night.  (Of which $6 is non-refundable.  And none of it is refundable if you cancel less than a week before the reservation date.)   Then I also found out Recreation.gov tacks on a $6 "reservation fee."  So for a grand total of $21, you may tent-camp in a swamp.
Another note:  When paddling a canoe or kayak In the Okefenokee, it's a rare place where you can actually stop, get out and stretch your legs.   "(And give other body parts a break as well.)"   The shelters – day shelter or overnight – are few and far between.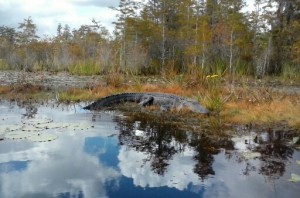 I.e., any "banks" you see will likely be nothing but mashed down reeds or bulrushes.  Beyond that, many of those banks of bulrushes will be already ocupado, by basking gators like the one at left.  But the good news is that you'll be following in the footsteps of people like Robert Louis Stevenson.
As noted in Donkey travel – and sluts – in my companion blog – Stevenson was an – if not the – original modern travelogue writer.
For example, he wrote books like Travels with a Donkey in the Cévennes.  (Which laid the groundwork for John Steinbeck's Travels with Charley.)  And a year or so before that, he wrote An Inland Voyage.  (About  a canoe trip through France and Belgium.)
Stevenson said he took pleasure in such arduous trips because he'd "been after an adventure all my life, a pure dispassionate adventure, such as befell early and heroic voyagers."
And quite often that meant "not knowing north from south, as strange to my surroundings as the first man upon the earth."  It also meant putting up with the occasional "astonishingly ignorant" fellow traveler.  (Or for that matter the two young country girls he came across, near an isolated French village; "impudent sly sluts, with not a thought but mischief. ")
But in the end, such a hard and difficult journey – or pilgrimage – is usually well worth the effort.  Anyway, that's what I noted after my first trip into the Okefenokee, last October:
…despite the discomfort that seems to got along with such efforts, it felt good to finally visit the home of Pogo Possum.  To visit – even for such a short while – the "hollow trees amidst lushly rendered backdrops of North American wetlands, bayous, lagoons and backwoods."
And speaking of Pogo Possum, here's a bit of homespun wisdom to meditate…
*   *   *   *
The upper image is courtesy of Alligator – Wikipedia, the free encyclopedia.  The caption:  "American alligator (A. mississippiensis)."  The next-down "gator picture" I took myself, in October.
The blog-post title alludes to "There you go again," a phrase made famous by Ronald Reagan, and later used by politicians as diverse as Bill Clinton and Sarah Palin.  See Wikipedia.
For other past adventures, see 12 miles offshore and/or A late-fall mountain trek…
The lower "enemy is us" cartoon image is courtesy of Pogo (comic strip) – Wikipedia.  The caption:  "Pogo daily strip from Earth Day, 1971."  In the alternative:  "A 1971 Earth Day comic strip written and illustrated by Walt Kelly, featuring Pogo and Porkypine [sic]."  Wikipedia described Porky Pine:
A porcupine, a misanthrope and cynic; prickly on the outside but with a heart of gold.  The deadpan Porky never smiles in the strip (except once, allegedly, when the lights were out).  Pogo's best friend, equally honest, reflective and introverted, and with a keen eye both for goodness and for human foibles.  

I wondered why I liked him so much…