My pre-trip Google-work notwithstanding, I got many a 'tall Maccabee' at nearby Leonardo's…
*   *   *   *
We're ending Week 10 of the COVID-19 lockdown, and so my thoughts drift to "this time last year." This time last year – on May 23, 2019 – I was in Jerusalem. Specifically, "today" my group visited the Wailing Wall and the Temple Mount. (Now called the "Haram esh Sharif.*") The Haram al-Sharif houses the Dome of the Rock, which most people notice in those long-range, panoramic views of Jerusalem. (On account of the bright gold dome.)
And where you sometimes see men having to wear these cover-all long brown "dresses." Just in case they forgot the rule about "modesty" when visiting Islamic holy places? (And wear shorts instead?) But we digress…
May 23, 2019, was a Thursday, and I felt a bit overwhelmed. The visit was part of a pilgrimage, a course given by St. George's College, Jerusalem. (The "Palestine of Jesus.")  There were some 40 people in the whole group, and about 20 came from my hometown church in Peachtree City, GA. Nine of us had left Atlanta late Friday night, May 11, and arrived in Tel Aviv about 8:00 the next night, Saturday May 11. That Sunday was my first full day in Jerusalem, which I spent alone; we had to get our own lodging until the course started Monday night.
That's when I discovered the BeerBazaar Jerusalem, on Jaffa Street. That was a good day…
Since that Sunday we'd done a lot of traveling and pilgrimage stuff, mostly by bus. We started the morning of Thursday, May 23, 2019 by getting bussed to the Dung Gate. It's at the lower end of the Old City in Jerusalem. (And guess what went through there?) Then we went on to the Haram esh Sharif (the "Noble [Muslim] Sanctuary"). You have to go through that "Muslim section" to get through to the Jewish "Wailing Wall." (A message there?)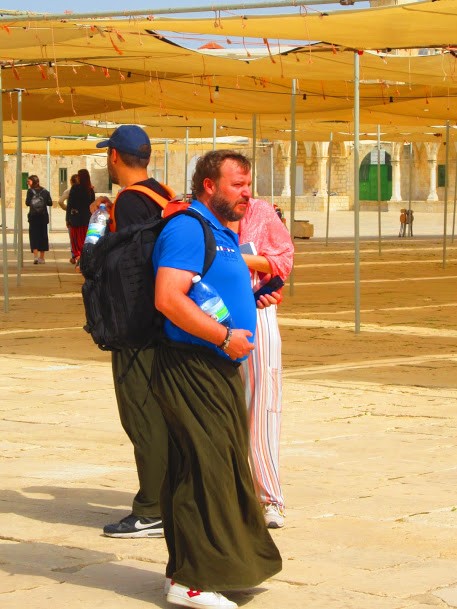 That's also known as the Western Wall, but getting back to the point: The rules for going through the Haram esh Sharif – to get to the Western Wall – call for "modest dress." For women that means skirts below the knees, and for men that means no shorts. Women with skirts above the knees have to put on doofy-looking long brown skirts. And so do men wearing shorts, as seen at left. (They definitely suit the women better than they do the men..)
I reviewed the trip in "Back from three weeks in Israel," posted on June 14, 2019. That was mostly about my disastrous last day in Israel; specifically, Tel Aviv.
I was "all cocky" from my smooth trip from Jerusalem to Tel Aviv the day before. And on miraculously finding some others in my group. (Rather than heading home, they were going to Petra, a "historical and archaeological city in southern Jordan.) I also reviewed the beginning of the trip in My first full day in Jerusalem. (In my companion blog, on the trials and tribulations of that first day of my pilgrimage. That included hearing a mysterious "explosion" at 4:08 on the morning of Sunday, May 12.)  But back to "this time last year," May 23, 2019…
There was a long line to get to the Wailing Wall. We started on a ramp – seen at left from down near the Wall itself – then had to negotiate up, to and through the Haram esh Sharif, then around to the other side. (We saw Israeli soldiers escorting a Jewish family through the Muslim section of the complex, to avoid trouble no doubt.) Then – before going down to the Wall itself – deeply spiritual people (like myself) go through a form of water-ritual-purification.*
It was definitely crowded – in part because of the number of bar mitzvahs held that morning, as shown in the photo above left – but eventually I found a niche in the Wall. I stuck my own set of "paper and prayers" into the niche, then leaned up against the Wall, left hand out and on it, for quite a long time. A few minutes later I went back and leaned my forehead against the wall. (Like some of the locals were doing.) It was a very moving experience…
Now about that Leonardo Hotel, shown at the top of the page. It's catty-corner from St. George's College, which turned out to be very convenient. Briefly, before I left home I did some Google-mapping to find the closest bars to St. George's, on Nablus Street. I just wanted to make sure I could get a nightcap if the need arose.
Those bars all seemed to be all clustered about a mile southwest of the college. But as it turned out, the Leonardo Hotel was a mere two-minute walk from St. George's. It also turned out that there was a "Bistro" at St. George's, but it closed a lot earlier. It also served Taybeh, the local Palestinian beer. The Leonardo served Maccabee, in tall drafts. (Wikipedia said Maccabee is 4.9%, but my souvenir bottle said it's 7.9% alcohol.) Thus the "many a 'tall Maccabee' at Leonardo's."
Officially it's the Leonardo Moria Hotel, and aside from those later hours, the lounge sometimes functioned as a piano bar. Like one evening when the yarmulke-topped pianist played the Chicken Dance. But I seemed to be the only one in the place who'd heard it before…
Fortunately – because I "felt a bit overwhelmed" – we had a free afternoon that May 23, 2019. (I walked back over to Davidka Square, also on Jaffa Street, for some brandy "just in case.") The next day we walked the Via Dolorosa ("Sorrowful Way"), then visited the Church of the Holy Sepulchre, seen below. That's where my brother – part of the Peachtree City group – got "escorted" out of line by a big burly Orthodox monk. Taking pictures when he wasn't supposed to?
But that's a story for another post…  ("Boy, some of those people are strict!") 
"Church of the Holy Sepulchre – The most sacred place…"
*   *   *   *
The upper image is courtesy of Leonardo Hotel Jerusalem King George Street – Image Results. See also Leonardo Hotel Jerusalem | ex. Novotel Hotel Jerusalem. I took the other photos- including the one below right – of "deeply spiritual people" going through a "form of water-ritual-purification."
The "Haram esh Sharif" is also referred to as the Haram al-Sharif. 
The lower image is courtesy of Church of the Holy Sepulchre – Wikipedia. The caption: "Church of the Holy Sepulchre cropped to approximately the area of the original church."
*   *   *   *
A final note: While this post is "dated" May 24, 2020, I actually posted it at 9:15 p.m. on May 23.