Harry Golden, a blogger "ahead of his time…"
*   *   *   *
I named this blog as a "take-off on the Carolina Israelite."
The Israelite was a pre-Internet blog, of sorts. More a newsletter, it was done up by Harry Golden (1902-1981). A noted "journalist, social critic, and humorist," he published the Israelite from 1944 to 1968. ("[A]lmost exclusively of essays and writings by Golden.") He wrote of things like "atheism, socialism, literature, and his boyhood experiences." His writing style reflected a "lifetime of voracious reading, and the Jewish immigrant experience of his boyhood."
And he wrote books, including For 2 Cents Plain, as seen at right.
Harry was a prototype of today's blogger. (See Great but Forgotten:  "If Golden were writing today, The Carolina Israelite would be done as a blog.") I hope this blog will be – in part – an homage to Harry.
But first an interesting sidenote: Golden lost his job in the Wall Street Crash of 1929 and was later convicted of wire fraud, "for which he spent five years in prison." It was only years later – in 1974 –  that President Richard Nixon "pardoned him for his embezzlement rap." (Carolina Israelite | NCpedia.)
But we digress…
The masthead on the first Israelite showed a menorah and a Torah. Under it Harry wrote: "To Break Down the Walls of Misunderstanding – And to Build Bridges of Good Will."
Not a bad goal at all, especially today.
As far as the "take-off," I am a classic 71-year-old "WASP." (As of July, 2022.) A balding, slightly paunchy White Anglo-Saxon Protestant, living in northern Georgia. But I'd like to think I share some traits with Harry, including but not limited to his unique sense of humor.
And speaking of that sense of humor – and style – here's one review of Harry's work. I saw it in the first page on my paperback copy of Golden's Only in America. ("OIA.") That review – from the New York Times – said Golden "writes what he wants to about anything he wants to."
That's including but not limited to some long-ago history:
He tells us things we don't know, he gives a new look to things we do know, and he makes us think about things  that we know but have avoided thinking about.
Again, not a bad set of goals at all.
In the Introduction of that Permabook, Harry described putting The Israelite together each month. He wrote the whole paper himself, including short essays like "How Samuel Johnson Prepared Oysters." (Johnson at right.) He also wrote long – 3,000 word – articles like "Sweet Daddy Grace, the Southern Father Divine." (See also Grace, Charles Manuel "Sweet Daddy," who died in 1960.)
First off, he set the advertisements. (Something I don't have to worry about.) Then, "I cram my editorials into every other inch of available space." He had a general rule: "arrange the columns so that a long article is usually followed by two or three short pieces."
He found that people were hungry for such a "personal touch."
He vowed to write a "personal journal," and put to use his "almost forty-five years of uninterrupted reading." So again, if Harry wrote today, the  "Israelite would be done as a blog."
Turning to my credentials: I've also done a lot of uninterrupted reading. And gone to school, a lot. Bachelor's degree in Mass Communications in 1976, and eight years later the Juris Doctorate – after three years of law school – that led to the state bar exam. 12 years after starting law practice (in 1985), I went back to school and got a Master's Degree in Journalism.
Another sidenote: As to that latter degree, see also the notes at the end of "Holier than thou," from a companion blog. It said one of my self-appointed tasks – as a reporter – is "challenge the prevailing quacks."
Anyway, not long after I started taking courses for that Master's degree, I also started a four-year Education for Ministry course. I completed it and eventually got credentialed as a Mentor. That in turn led – in the fullness of time – to my first blog, DOR Scribe.
The upshot? While I enjoy that other blog, it doesn't give me the range to explore secular topics. This blog will include a number of Travelogs, not to mention posts on Politics and Nostalgia.
Then there are Movie reviews. Those reviews – when they happen – are a throwback to my time at the University of South Florida, in 1976. I reviewed movies for the student newspaper, The Oracle.  (Before it got all famous and well-known.) I liked films enough to make that my minor.
Finally, I'll review "good experience." Like the eight-day, primitive-camp canoe trip my brother and I took in November 2014. See Canoeing 12 miles offshore, paddling way out into the Gulf of Mexico and ending up in Biloxi. After camping on some islands out there – and an occasional salt marsh or two.Or see October 2019's "Greetings from the Portuguese Camino!" Or Travelogs, including Back to Camino 2021 – Pamplona to Logrono, from December 2021.
There's lots more to write – in the style of Harry – so keep posted. And who knows, maybe I too can end up being a "voice of sanity amid the braying of jackals…"
*   *   *   *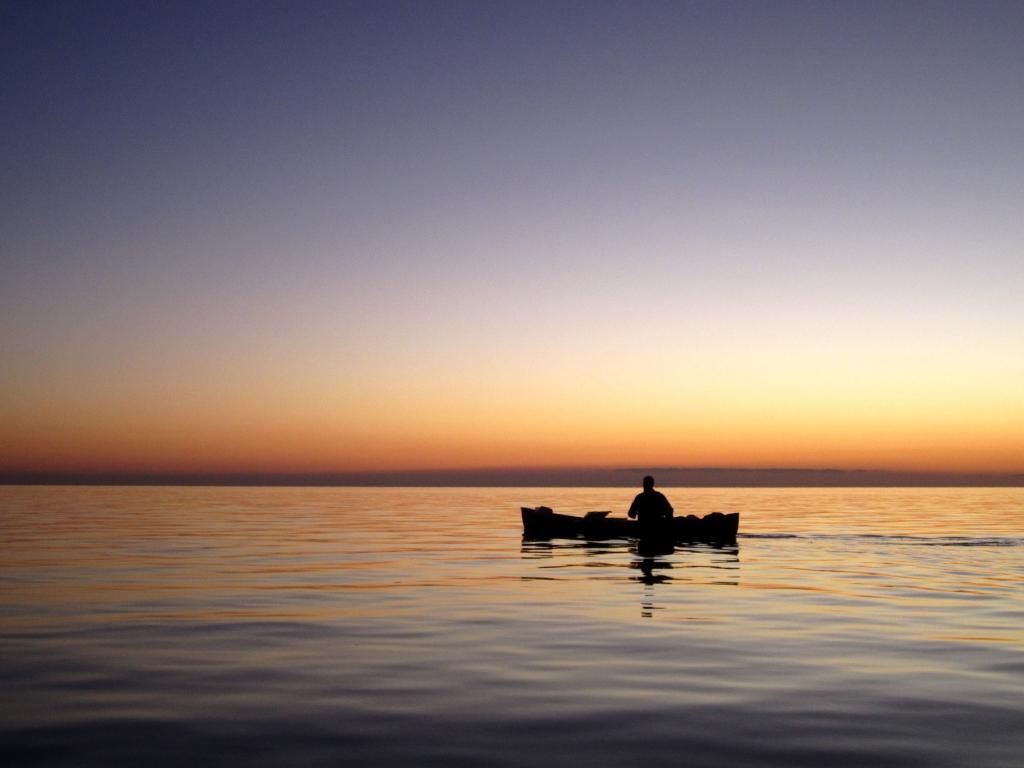 From Canoeing 12 miles offshore, at dawn, heading to Cat Island…
*   *   *   *
The upper image is courtesy of Harry Golden The Carolina Israelite – Image Results. 
The "Two Cents Plain" image is courtesy of Harry Golden – Wikipedia.
I also note that if Harry had such a blog, he too would have a link titled, FOR A BOOK VERSION.
Re: Schooling. I got a Bachelor's degree in Mass Communications in 1976, then worked for the old St. Petersburg Times as a paste-up artist for five years. Then went to law school. I was a public defender for 24 years, and retired early, "due to circumstances beyond my control."  During that 24 years – beginning in 1999 – I went back and got my Master's degree in Journalism.
Re: Movie reviews. The last review I did – technically – was "Joseph Welch, dead at only 69? OMG!!" But it reviewed the 1959 movie, Anatomy of a Murder, starring Jimmy Stewart. I'd seen it dozens of times. (Welch played the judge in a murder trial Stewart defended.) The last "real" review I did was "Imitation Game" – Revisited, in February 2018. I first reviewed that movie in April 2015's, On Oscar Wilde and "gross indecencies." Needless to say, it's been a while.
I still I have a textbook from my time as film-minor student-reviewer. A Primer for Film Making: A Complete Guide to 16 mm and 35 mm Film Production (1971), it still contains relevant information. Primer for Film Making is available from Amazon for as low as $1.76, plus shipping and handling. It's a self-styled "basic, step-by-step guide to the art and craft of contemporary film-making."
Also re: "blogger." See Urban Dictionary: "Term used to describe anyone with enough time or narcissism to document every tedious bit of minutia filling their uneventful lives." Or you might be interested in "20 Reasons Why You Should Blog."
I took the photo that's the lower-image. And am not too happy about "Photobucket" horning in…