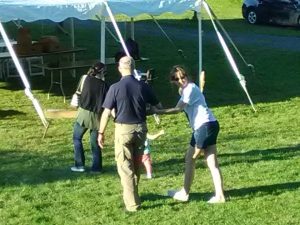 "Day before" wedding rehearsal.  (I'm sure there's no "body-language hidden meaning…")
*   *   *   *
Two weeks ago I got back from three weeks in Israel.  Then right away I had to make a dramatic transition:  From free-wheeling world traveler to "weird uncle of the bride."
Which is being interpreted:  After my adventures in Tel Aviv – getting lost hiking to the train station, taking the wrong train (away from the airport) and going 26 hours without sleep – I had to begin preparing for an 1,100 mile road trip up to Hadley, Massachusetts.
There my "favorite niece from Utah" was getting married.
*   *   *   *
My latest adventure started after church on Sunday, June 16.  By the time I got out of church and gassed up, it was noon in PTC.  That afternoon I got as far as Knoxville TN.  I wanted to make it to Dandridge, but had a bit of a mixup trying to online-register for a Super 8 there.  (After pulling over during one of several traffic tie-ups on I-75, northwest of Atlanta…  Among other things, to check alternate routes via more scenic but slower back roads.)
To  make a long story short – and after yet another traffic slowdown coming into Chattanooga – I took a fallback position:  I picked up a delightfully-retro Travel Coupon booklet at a convenience store.  (Another bladder break and coffee.)   Then I "proceeded on," taking more back roads around the south part of the city.  (The good news:  Now I know where the Social Security and county farm offices are in south Chattanooga, should the need ever arise…)
Next day – Monday, June 17 – I made the Motel 6 in south Harrisonburg VA.  I had considered taking my time and getting to Hadley around noon on Wednesday, but by that Monday night I'd had my fill of motels.
So next morning I got up at 5:00 a.m. and left Harrisonburg in the dark.  I made the West Virginia line by 7:02, the Maryland line by 7:24 and Pennsylvania by 7:34.  Then – at the exit leading to Cumberland Gap Park – the "radio*" started playing "Cumberland Gap," by the 1950's Skiffle singer Lonnie Donegan.  (Best known for his hit single, "Does Your Chewing Gum Lose Its Flavor (On the Bedpost Overnight?")  I figured it was sign from God…  (That "all is well.")
From there the going was pretty good – until I got through Chambersburg PA.  There was a bad accident on I-81 north of Lebanon and yet another traffic tie-up.  Then a sign beside the interstate noted another lane closure at Mile Marker 117.  So I took more backroads to "bypass resistance;" state roads 443 and 61, over to Pottsville and back up to Interstate 81.  (Well past Mile Marker 117.)  I passed through some cute little Pennsylvania towns and stopped for gas – and another bladder break – in Schuylkill Haven.  There I also got a ready-made chicken salad sandwich on a kaiser roll.  Despite being made at a gas station, it was pretty dang good!
I ended up making it to the rental house in Northampton MA – across the Connecticut River from Hadley – by 6:00 PM.  (At right.  As you can see, it was cloudy, overcast and subject to passing bands of rain, as it had been for most of the drive up.) 
To review that part of the trip on the way up:  It took me 54 hours to make about 1,100 miles.  Interstate 81 was – as usual – a pain, with clusters of tractor-trailers trying to pass each other like slow-moving turtles that blocked both lanes so well.
On the other hand, Interstate 88 east from Binghamton NY was much better.  It passed through beautiful rolling hills, and farmland – and not much traffic.  And the New York Thruway (I-90, around Albany and south over to Massachusetts) was a very pleasant surprise.
The Tuesday night I arrived, my brother and sister-in-law were over at "the Kelly's" – the future in-laws – doing their early part of getting ready for the wedding.  So I puttered around the rental house, finding the washer and dryer – much needed – along with how to get my stair-stepping equipment easily into the basement.  Not to mention a place to store my kayak.
On that note, the early part of Wednesday (6/19) I spent two hours and 24 minutes kayaking on the Connecticut River.  (Which runs between Northampton and Hadley.)  I put in near Elwell State Park, which has a footbridge from the Northampton bank to an island in the middle of the river, then onto the Hadley side.  For that bout of kayaking there was SOME sun, but not much.
Later that Wednesday we all had dinner with the future in-laws.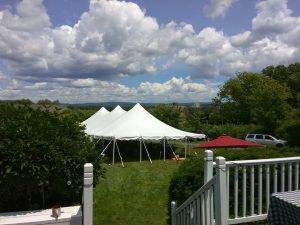 On Thursday we got down to work.  The main wedding party started working on "favors."  I helped most by staying out of the way.  (As in "Lead, follow or get the hell out of the way.")  And by reading a first (1908) edition of Kipling's "The Light That Failed."
I made up for it on Friday by helping set up a tent-full of tables and chairs.  (As shown above left, completed.)  Then the wedding rehearsal finally started.  (A good bit after the scheduled 6:00 p.m. start time, but the happy couple was "not hung up on that deadline thing!")  That's when I took the photo of the father of the bride and bride-to-be, heading down the "aisle," as shown at the top of the page.
Then came the final preparations the morning and early-afternoon of the wedding day, June 22.  Then came the count-down:  4:52 p.m. "It shan't be long now!"  Then the Officiant getting some last-minute instructions, as shown by a photo in the notes below.
And finally – at or about 5:43 p.m. – it became official.  They were married!
And then – It was TIME TO DANCE!
*   *   *   *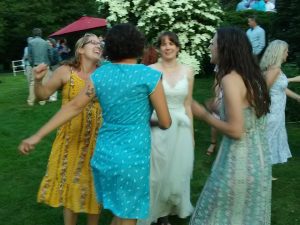 *   *   *   *
I took the upper-photo image on June 21, 2019.
The Wikipedia caption for the Hadley MA image is "Town Hall and First Congregational Church."
Re:  "The radio."  I do have a radio in my car but mostly listen to Sirius Satellite Radio.
Re:  Lonnie Donegan, and his "Skiffle" style.  Wikipedia:  "With a washboard, tea-chest bass and a cheap Spanish guitar, Donegan played folk and blues songs by artists such as Lead Belly and Woody Guthrie.  This proved popular," beginning in 1954.  Later Donegan "went on to successes such as "Cumberland Gap" – later to be the sign from God, as noted – and "Does Your Chewing Gum Lose Its Flavour (On the Bedpost Overnight?), his biggest hit in the U.S…  He continued in the UK charts until 1962, before succumbing [sic] to The Beatles and beat music."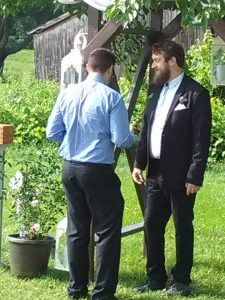 Re:  "Final preparations."  They included the Wedding Officiant – to the right, with beard – getting last-minute instructions.