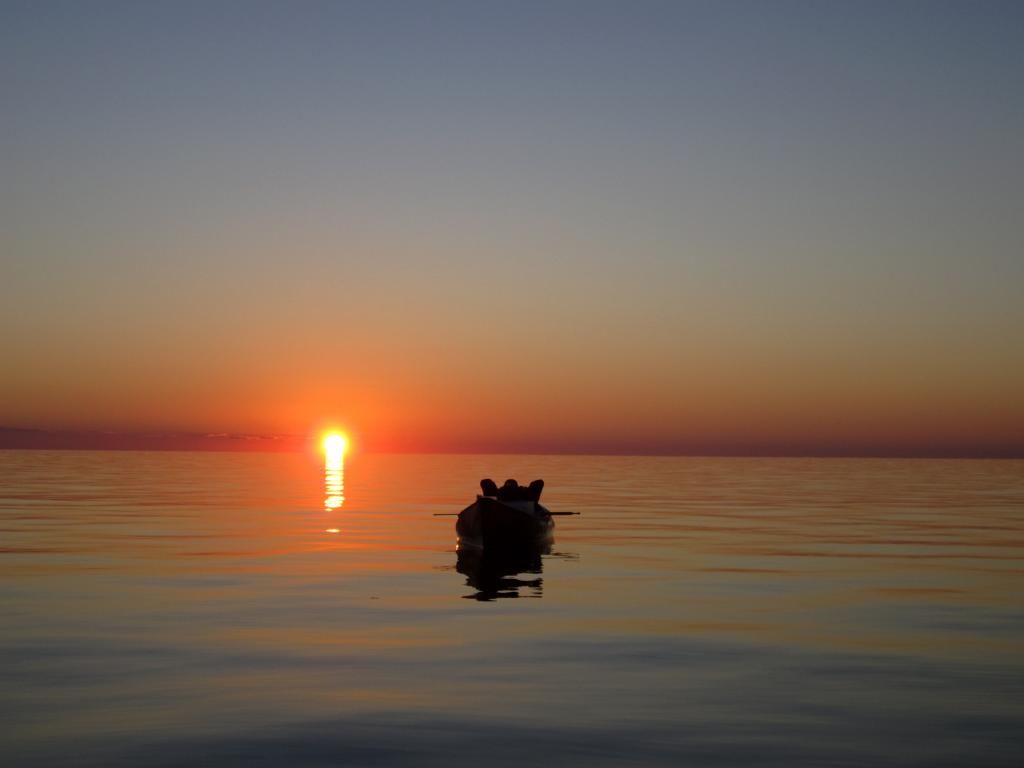 A siesta at sea, a skill you need if you want to paddle 17 miles in 11 hours.  (Starting at 3:00 in the morning, and "12 miles offshore…")
  *   *   *   *
This post is on what you might call a pilgrimage that happened last November, 2014.
That's when my brother and I did an 8-day canoe trip "12 miles offshore."  We started out on Lake Ponchartrain, then paddled through the Rigolets and on out into the Gulf of Mexico.  We paddled 12 miles out into the Gulf, then "primitive camped" at night, on places like Half-moon Island and Ship Island.  (And from time to time an occasional salt marsh.)
Which naturally brings up the question, Why?   Why would two old geezers – 63 and 69 respectively – paddle so far out, into the realm of sharks and drownings?
For one answer we can turn to John Steinbeck.  He began Part Two of Travels with Charley by noting that most men his age get told, "slow down."  And so they "pack their lives in cotton wool, smother their impulses, hood their passions, and gradually retire from their manhood."  (They "trade their violence for a small increase in life span.")   But that wasn't his way:
I did not want to surrender fierceness for a small gain in yardage…  If this projected journey should prove too much then it was time to go anyway.  I see too many men delay their exits with a sickly, slow reluctance to leave the stage.  It's bad theater as well as bad living.
That brings up what Robert Louis Stevenson said – in a similar vein – in his  Travels with a Donkey in the Cévennes.   (See also my other blog, to wit: On donkey travel – and sluts.)
Briefly, my feelings about such a challenge – eight days canoeing 12  miles offshore – are pretty much reflected in what Stevenson said in Travels with a Donkey, and what Steinbeck said in Travels with Charley.  (See Wikipedia.)
Stevenson wrote of his "12-day, 120-mile solo hiking journey through the sparsely populated and impoverished areas of the Cévennes mountains in south-central France in 1878."  The book was considered a pioneering "classic of outdoor literature," and is said to have been the basis for Steinbeck's Travels with Charley.
Early on in his Travels, Stevenson found himself  groping in the dark for a campsite.  (A site "black as a pit.")  He ate a crude dinner – a "tin of bologna" and some cake, washed down with brandy – then settled in for the night.  "The wind among the trees was my lullaby."
He woke in the morning "surprised to find how easy and pleasant it had been," sleeping in the open, "even in this tempestuous weather."  He then waxed poetic:
I had been after an adventure all my life, a pure dispassionate adventure, such as befell early and heroic voyagers; and thus to be found by morning in a random nook in Gevaudan – not knowing north from south, as strange to my surroundings as the first man upon the earth…
(Pages 50-56, "Upper Gevaudan.")   Stevenson seemed to  be saying he'd experienced something that less-adventurous people – then and now – have no idea they're missing.  That is, something of the feelings that "the explorers back in the olden days had."  (Those "early and heroic voyagers…")    On page 64 he expanded on that thought:
Alas, as we get up in life, and are more preoccupied with our affairs, even a holiday is a thing that must be worked for.  To hold a pack upon a pack-saddle against a gale out of the freezing north is no high industry, but it is one that serves to occupy and compose the mind.  And when the present is so exacting, who can annoy himself about the future?
In the same way – as I found out last November – "who can annoy himself about the future" when he's immersed in the exacting task of paddling for hours on end.  When he's 12 miles offshore, at the mercy of the elements.  When day's end promises naught but a lukewarm meal on a soggy beach, or salt marsh.  (Which actually turned out to be quite rewarding.  The wealth of bull rushes growing out of the sloshing water gave one of the softest "beds" of the journey).
But as it turns out, that's the nature of pilgrimages.   They give us a break from "real life," from the rat race that consumes so many lives today.  All of which I noted in St. James the Greater. That post from my other blog noted a description of such a journey as "ritual on the move."
In turn, through the raw experience of hunger, cold and lack of sleep, "we can quite often find a sense of our fragility as mere human beings, especially when compared with 'the majesty and permanence of God.'"   In short, such a pilgrimage can be "'one of the most chastening, but also one of the most liberating' of personal experiences."
There's lot more to say about last November's canoe trip.  But for now it's enough to say that – despite the discomfort that's part of the process – there were moments of pure bliss…
*   *   *   *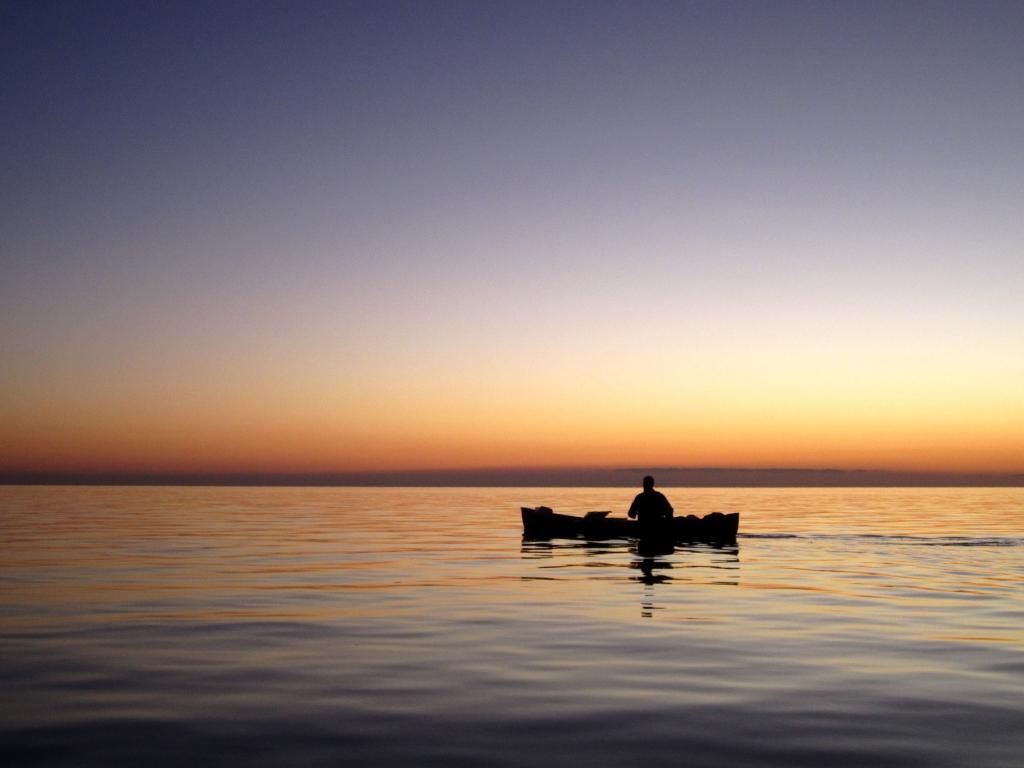 10 miles out in the Gulf of Mexico, at sunrise on November 10, 2014…
*   *   *   *
I gleaned the foregoing from posts in my other blog, including On achieving closure, On achieving closure – Part II, and "I pity the fool!"
The upper image is a photo I took near dawn on November 10, 2014.  That's the day we did 17 miles in 11 hours.  (That amounted to some six hours of actual canoeing.)  Also, given the age of the "intrepid canoeists" it behooved us to learn – through "OJT" – the technique of "siesta at sea."  Note the calm water that is a necessity for such a siesta when you're 10 or 12 miles out in the Gulf.

The lower image is also a photo I took near dawn on the morning of November 10.  (And incidentally, those are clouds on the horizon, not land.)  That day we got up and broke camp at 3:00 in the morning.  We hit the water at 5:00 a.m. and paddled the 17 miles in 11 hours, not counting an hour break on Cat Island, before proceeding to West Ship Island.  Not bad for a couple old geezers!
*   *   *   *