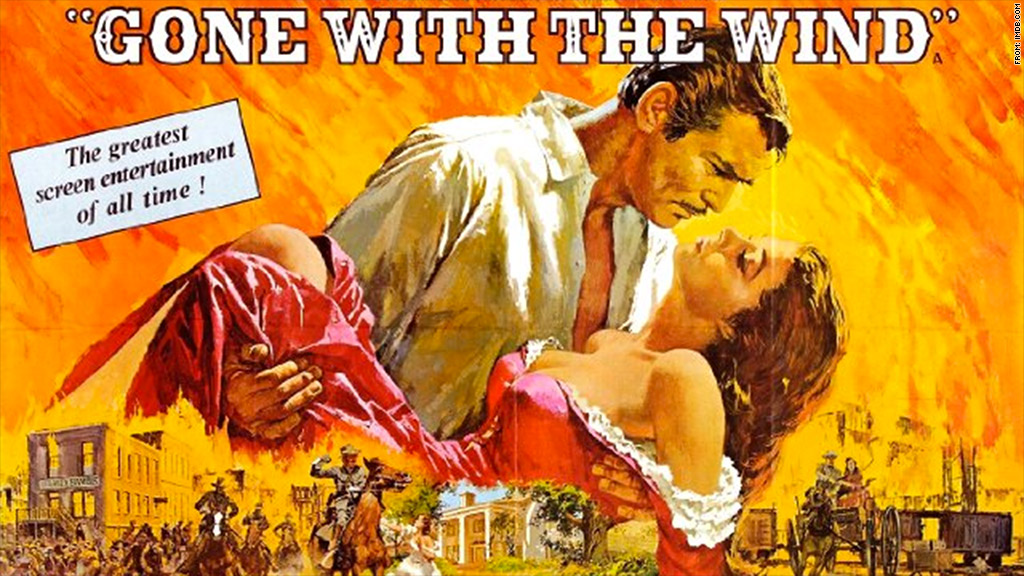 GWTW – Good for local business and a "tourist boon for Atlanta…"  
*   *   *   *
I just published a collection of posts from this blog.  The title comes from the one I did on September 1, The mysterious death of Ashley Wilkes.  The sub-title:  "And other tales from the 'Georgia Wasp.'"  Which is another way of saying that I'm a firm believer in kismet. In one sense it means your lot in life.  (Or the alternative, your fate.)
But in another sense it means a situation "when you encounter something by chance that seems like it was meant to be."  (Sometimes called a sign from God.  On which see Isaiah 7:11.) That explains why – in my new book of posts – the Mid-summer Travelogs are out of order.  (Part II comes before Part I.)  There's more on that later, but first an explanation. I live in the ATL – "God's Country" – and that's the birthplace of Gone with the Wind.  In turn, "GWTW" has been both good for local business and a "tourist boon for Atlanta."  (See for example GWTW trail: the top 10 sights in Atlanta.)
So after I posted Ashley Wilkes – seen at right, as played by Leslie Howard – I sensed a definite marketing opportunity. Like most people my age – 64 – I sat through the full 220 minutes of the film some time in the 1960s.  (At a periodic re-release in theaters.  That's almost four hours of running time.)   And I saw it all the way through another time or two, with my parents, at home, on TV.  (Complete with what seemed to be more hours of commercials.)
Since then I've seen parts of GWTW dozens of times, in the process of channel surfing.  (A side note: Eugene Polley, who invented the first wireless remote control, died in 2012 at age 96.)
And finally – just last summer – I once again watched the entire movie, all the way through.  (My brother and I were traveling back from Astoria on "unfinished canoe-trip business.")
But it was also only then – after getting home from Astoria – that I learned about Leslie Howard dying so mysteriously.
It happened during the early years of World War II, over the Bay of Biscay off the French coast.  In June 1942, a commercial airliner carried Howard and 16 other passengers and crew from Lisbon to London.  It got shot down by eight Luftwaffe Junkers Ju 88C6 fighter aircraft, like the one above left.
You can see the full story at Mysterious death, the first chapter of this new book.  On that note, some called the shoot down an accident of war.  But others said top Nazis ordered the attack deliberately.  According to this theory, the Germans considered Howard as either a British spy, or as "Britain's most dangerous propagandist," or both.
Personally I found this new information fascinating, and wondered why I'd never heard it before.  (Including the part about Conchita Montenegro, seen at right.)  In turn I figured the people of Atlanta would be equally fascinated.  So, I decided to do something about it.
Thus was born The mysterious death of Ashley Wilkes (and other tales from the "Georgia Wasp"), now available in E-book and paperback.
Which brings us back to kismet…
To get the book ready to publish, I had to copy-and-paste the first chapter – Mysterious Death – onto a flash drive.  But for some reason, the resulting copy-and-paste resulted in a bunch of posts being transferred.  Some 14 posts in all – including drafts – all the way down to Canoeing 12 miles offshore.  (I posted that on May 23, while I posted Ashley Wilkes on September 1st.)
But rather than get upset, I figured it was kismet.  (Either that or a sign from God…)
Which means that a happy accident shaped at least the first draft of the book.  Later I did some tweaking, adding some posts, editing others and deleting some.  But basically the order of chapter-posts in the book came from that initial C&P bit of "kismet."
There's more on the other chapters later, but first I wanted to do another bit of homage to Harry Golden.  He's the guy who inspired me to start this second blog.
Some years ago I bought a second-hand paperback copy of Harry's book, Only in America.  (Not to be confused with the 2001 Brooks and Dunn song of the same name, or the 2011 "reality television series" featuring Larry the Cable Guy.)
I admired the way he wrote about topics that interested him, yet still managed to find an audience for his ramblings.  I also admired the way he wove stories that became "a wonderful look into a different time."  And I admired the way he overcame the obstacles in his life, like serving five years in prison for mail fraud.  (See "Wasp.")
But despite it all, Harry still liked to "accentuate the positive."  And that alone made him both unique and well worth emulating.
I'm pretty sure he too would be fascinated by the mysterious death of Ashley Wilkes.  And I'd like to think he'd enjoy the rest of the book as well.
For example, the second chapter is "Johnny YUMA was a rebel…"  It's about The Rebel (TV series), that ran from 1959 to 1961.  (And Harry himself was a bit of rebel.  Facing down intolerance, distrust and greed, and standing up "for the weak and downtrodden.")  But once again there was a death under mysterious circumstances.  The series' star – Nick Adams – died at age 36, in 1968.  (A mere seven years after the show ended.)
The third chapter is "When adultery was proof of loyalty."  That post was inspired directly by Harry Golden, who wrote a column of the same name.  I did it as a "book review plus:"
Unfortunately, in Harry's delightfully retro format – an old-timey newspaper or newsletter – he couldn't use the full-color pictures, flashy graphics and built-in links that we can use in today's blogs.  So, this bit of a book review will be more than a bit of an update. (E.A.)
Other chapters include On Oscar Wilde and "gross indecencies." It talks about the rise and fall of both Oscar Wilde and "computer scientist Alan Turing."  (As told in the 2014 film, The Imitation Game.)  The lesson?  It pays to remember our past history.  Which is something Harry would believe in. Then there was a chapter On leaving a legacy. It talks about something that should be near and dear to all of us aging Baby Boomers:  Putting your stamp on the future, giving some meaning to your existence, or both.
And speaking of positive mental health advantages…  That's one of many things that I got – and get – from reading and re-reading Harry Golden's old books full of columns, observations and essays.  (Books like Only in America and For 2 Cents Plain.)
One reviewer noted above said that Harry's essays were "at once insightful, thought provoking and in some instances just plain funny."  Another noted his special brand "of wit and whimsy, and a love of people and learning."  A third said that Harry's Carolina Israelite was "the most quoted newspaper of personal journalism of them all."
In closing, someone once observed that "a man is known by his dreams."  Assuming that is so, it is my sincere hope – and dream – that I can carry on the good work done by Harry Golden.
*   *   *   *
*   *   *   *
The upper image is courtesy of Gone With Wind – Image Results.  
Re: positive outlook on life and/or "accentuating the positive."  Referring to "Ac-Cent-Tchu-Ate the Positive," the 1944 song written by Harold Arlen with lyrics by Johnny Mercer.
See also curveball, defined in part as a "particularly difficult issue, obstacle, or problem."  The point being that life seems to have a habit of "throwing us curveballs."  See also the alternate definition of dinosaur, as "someone who resists change or is old-fashioned."
Re: "The ATL."  The link in the text goes to the Wikipedia article on the Atlanta metropolitan area.  But "ATL" or "the ATL" is a common acronym or abbrevation for the same area, if not Atlanta proper.  (Possibly or partly based on the airport code for Hartsfield–Jackson Atlanta International Airport – Wikipedia.  See ATL – Acronyms and Abbreviations – The Free Dictionary.)
The "tourist boon for Atlanta" quote is from "A Tough Little Patch of History:"  Atlanta's Marketplace for Gone With The Wind Memory.  That was the 2007 history dissertation by Jennifer Word Dickey, presently an Assistant Professor of History at Kennesaw State University:
She has a master's degree in heritage preservation and a Ph.D. in public history from Georgia State University.  Her research focuses on the cultural impact of Margaret Mitchell's Gone with the Wind, a subject upon which Dr. Dickey has delivered public programs in the United States and in Vietnam.
Re: "periodic re-release in theaters."  See for example 'Jaws' Re-Release:  Film to Hit Theaters for 40th Anniversary:  "On June 21, [2015,] nearly 500 theaters nationwide will show the thriller for its anniversary, presented by Fathom Events, Turner Classic Movies and Universal Pictures."
Re: "happy accident."  Also known as Serendipity, originally a term coined by Horace Walpole in 1754 and meaning a "fortunate happenstance" or a "pleasant surprise."  See Wikipedia, and also Embracing Creative Failure (II): Cultivating Happy Accidents.  The latter web-article discusses happy accidents in the process of creating works of art – as seen at left – and added this:
Where would we be without serendipity…  Without the "X Factor" that unexpected results bring, who knows how long it would have taken scientists to discover oxygen, electric current, photography or the vulcanization of rubber.  And who knows if such vital medical breakthroughs as the discovery of penicillin [or], the development of chemotherapy as a cancer treatment … would have happened at all.
The view of lower Manhattan is courtesy of oneworldobservatory.com/experience.
Re: "a man is known by his dreams."  That thought was attributed to Plato, in the third paragraph down of the web article, The Dreams and their Interpretation.

The lower image was featured in Was Moses the first to say "it's only weird if it doesn't work?"  In turn it was courtesy of Rephidim – Wikipedia, with the caption:  "Moses holding up his arms during the Battle of Rephidim, assisted by Hur and Aaron, in John Everett Millais 'Victory O Lord! (1871)."
*   *   *   *
In addition to Gone With The Wind Trail: top 10 sights in Atlanta – vis-a-vis the film being good for local business and tourism – see also Gone with The Wind| Atlanta History Center, Visit the Margaret Mitchell House | AtlantaHistory Center, and/or Gone With The Wind- Roadside Georgia.