A contemporary view of the Okefenokee Swamp, made famous – or infamous- by a 1941 film… 
*   *   *   *
November 7, 2015 – I saw the movie Swamp Water back in the early 1960s.   (When I  was around 10 or 12.)  The part I remember best was watching Walter Brennan getting bitten in the face by a snake. In the scene, he kneels over and parts the bullrushes to get a drink. (Of  "swamp water," while hiding from John Law in the Okefenokee.) 
As Walter does all that, the viewer can see a grinning cottonmouth off to his right. (The viewer's left.) The grinning cottonmouth then proceeds to bite him "right on the cheek."
I've been fascinated ever since…
Which is another way of saying that back on October 23, 2015, I fulfilled a life-long dream.
I took my little 8-foot kayak and paddled deep into the Okefenokee Swamp myself.  There I camped overnight, on the Cedar Hammock shelter. On the other hand, I didn't see any snakes either… There's more on the overnight camp-out later.  But first a word about that life-long dream. I've been fascinated by the Okefenokee as long as I remember.  (In much the same way as I am by New York City.  To me they're both fascinating and scary…)
Part of it was the movie Swamp Water, but another part was the old Pogo comic strip.  It starred Pogo Possum, and was set in the Okefenokee Swamp.  It also featured "social and political satire through the adventures of its anthropomorphic funny animal characters:"
Pogo is set in the Georgia section of the Okefenokee Swamp;  Fort Mudge and Waycross are occasionally mentioned.  The characters live, for the most part, in hollow trees amidst lushly rendered backdrops of North American wetlands, bayous, lagoons and backwoods.
And characters in the strip included Albert Alligator. Which brings up a note:  I saw tons of Albert's cousins – and other distant relatives as well.  I usually saw them basking on the "shore," or slithering through the waters ahead of me. But one time I saw a big bull gator – who eventually submerged – in a very narrow canal. This was on the canoe trail to Monkey Lake. As I paddled over over the water where the gator had been, I could swear he came up and nudged the bottom of my kayak.  I figured it was an accident.  (But the second time?)
That added some spice to the trip.
And speaking of "shore."  One thing I learned is that – in the Okefenokee – there are precious few places to stop and take a break from your canoe or kayak. The shelters – for day use or overnight – are few and far between.  As a result, the ol' keister got extremely sore by the end of the second day.  (Not to mention blisters on my palms…)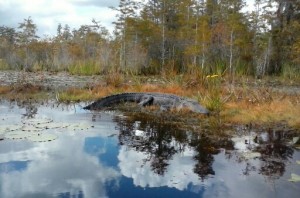 Which leads to the fact that the "shore where the gators bask" – noted above and as shown at left – was not really a shore.  (As that term is generally understood.) In the Okefenokee Swamp, such a shore is usually a line of reeds that an alligator can mash down.  (And where a human steps off at his own peril…)
But we were talking about that life-long dream.
I've lived in the Tampa Bay area most of my life.  (Before I ended up in "God's Country.")  So to go anywhere north, I always had to drive up I-75 or I-95.  Either way, as I got just past the Florida-Georgia line, there – off to the right or left, respectively – always lurked the Okefenokee. (Begging to be explored, both threatening and fascinating…  Much like New York City.) So when I finally got my chance, I took it.  (Albeit, well past my 64th birthday.)
To prepare for the trip – about two weeks before the October 23 overnight jaunt – I drove down for a short two-hour exploratory kayak.  (Verb, not noun.)  On that short jaunt I paddled out to Mile Marker 3.  Three miles west of the Suwannee Canal East Entrance to the Swamp. I covered that three miles in 54 minutes, a figure that would came back and haunt me later. Having done that, I took the plunge and made a reservation to camp overnight. That – I thought – would enable me to explore a lot more of this mystic swamp.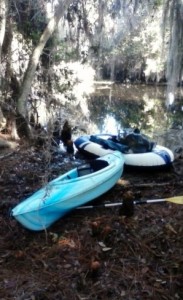 But first a word about transport.
I originally planned to rent a canoe, from the local Okefenokee Adventures at the main entrance.  (11 miles southwest of Folkston.)   The cost would be $25 a day for the two days, and in the canoe I could carry all my gear in comfort.  (In one vessel.) Needless to say, you can't pack much gear – beyond a cold drink and sandwich – in an eight-foot kayak.  But then I found myself "financially challenged," for the time being at least…
The upshot was that – instead of renting a nice big canoe – I opted for a "tagalong combo."  I paddled my small kayak and towed a small rubber "dinghy," as shown at right. And incidentally, this site shown was one of the few places that I could get out and stretch my legs.  That's another way of saying I found one stretch of hammock(s) along the Suwanee Canal, the " principal waterway into the swamp."  Aside from the shelters themselves – few and far between – that was pretty much it for getting a break from paddling.
And finally – for this episode anyway – here's a word on tent camping.  (Before  we get to the swamp-camping part of the journey into the Okefenokee.) In Mid-summer Travelog (Part I), I wrote about tent camping as a less-expensive alternative to motels, while traveling on the road.  That was part of a discussion of Travels with Charley, the book on a road trip John Steinbeck took in 1960.  I noted some big differences between highway travel in 1960 and highway travel today. Like, in 1960, Steinbeck could camp for a dollar a night, if not free.
Once, early in his trip, Steinbeck stopped at a farm in New Hampshire for fresh eggs.  He then asked permission to "camp beside the stream and offered to pay."  The farmer said there was no need to pay.  "The land's not working.  But I would like to look at that rig you've got there."  (At this time motor homes were still rare.)   The two men ended up at the table inside Steinbeck's "rig," discussing events of the day over "a good dollop of twenty-one-year-old applejack."
Another time – just before he drove into Chicago to meet his wife at the Ambassador East – Steinbeck was relaxing where he'd pulled over to make coffee.  (Beside a lake of clear, clean water.)  Then, "A young man in boots, corduroys" and a mackinaw came up; "Don't you know this land is posted?  This is private property."  Steinbeck ended up camping there, after a "bribe … with a cup of coffee."  Coffee, that is, with a "dollop of Old Grand-Dad."  (Which may bespeak an object lesson for traveling…)
Then on pages 95-103 of the Penguin Books edition, he wrote of the marvels of the then-new trend in personal housing.  (Mobile homes.)  More to the point, on page 98 he wrote this: "Since I did not require any facilities, sewer, water, or electricity, the price to me for stopping the night was one dollar."
That seems to be no longer true.  Not in any meaningful way anyway.
In Travelog (Part I), I wrote that for what you pay to camp – as Steinbeck did – you can get a nice Motel 6, with air conditioning and no bugs.  (And that was for tent camping.)  But then I had to add this proviso, in a follow-up post, Mid-summer Travelog – Part III:
It is true that camping at a state park these days – even with online reservations – can cost almost as much a night at a Motel 6.  But after the trip I found a website, Freecampsites.net. (See also FreeCampgrounds.com.)  I haven't actually tried one of these yet, but it does bode well for the future.  (And I suppose there's some kind of object lesson in all this…)
Which is another way of saying that on the way down to the Okefenokee, I got a chance to try out one of those campgrounds on Freecampsites.net. The site I planned to check out was Killebrew Park – Warwick, Georgia.  Warwick is a cute little town of some 430 souls.  It's at the south end of Lake Blackshear, and a mere 16 miles southwest of the Cordele ramp to Interstate 75. But Killebrew Park was a different story.  It was indeed at the south end of Lake Blackshear, and thus a possible site for future kayaking adventures.  Before even entering the campground I saw a large sign, "No campsites available."  (Or Words to that Effect.) Then I drove into the campground itself, just to make sure.
What I saw reminded me of a scene from Bonnie and Clyde.  (As shown at right.)  That led to me to later Google the term Hoovervilles  – and possibly discover their modern-day equivalent:
The communal "Hoovervilles," "Hobo Jungles" and "Shanty Towns" of the Great Depression evoked
the hippie communes that were springing up all over the country in 1967.  The nomadic, anti-establishment rebel  lives of Bonnie & Clyde struck a chord with young audiences of the 60s.
But the campground at Killebrew Park had a different feel to it.  The standard practice at most campsites is for a 14 Day Stay Limit.  So after driving through the place, I'm guessing at what most people do when staying at such places as Killebrew Park.  I'm guessing they already have their Plan B mapped out:  Packing up and moving to the next-closest "free campground." Whether these free campgrounds are the modern equivalent of such "Hoovervilles" is beyond the scope of this post.  (Now just passing the preferred post-length of 1,600 words.)   Or possibly for another, later post.  The point is that after feeling distinctly uncomfortable at the idea of camping at Killebrew Park – even if there had been a space available – I had my own Plan B.
That and the overnight-camp in the Okefenokee will be covered in the next post…
*   *   *   *
"…a cottonmouth bites Walter Brennan 'on the cheek.'"
*   *   *   *
The upper image is courtesy of Okefenokee National Wildlife Refuge – Image Results. From the article, National Wildlife Refuge System celebrates 114th birthday. 
Re: "John Law."  See also Urban Dictionary: John Law, and not to be confused with John Law, the noted economist (1671-1729), the "Scottish economist who believed that money was only a means of exchange that did not constitute wealth in itself and that national wealth depended on trade." 
The "Albert" image is courtesy of www.comicvine.com/four-color-105-albert-the-alligator-and-pogo.  Wikipedia described Albert as "Exuberant, dimwitted, irascible and egotistical…  The cigar-chomping Albert is as extroverted and garrulous as Pogo is modest and unassuming, and their many sequences together tend to underscore their balanced, contrasting chemistry —like a seasoned comedy team."
Re: "God's Country."  See Introduction to Ashley Wilkes:   "I live in the ATL – also known as 'God's Country' – and that's the birthplace of Gone with the Wind."
Quotes from "Travels with Charlie" are generally from the 1980 Penguin Books edition.  The "applejack" quote is on pages 27-28.  The "Granddad" quote is from pages 109-13.
I took the pictures of the gator basking on a rare, semi-solid "shore" in the Okefenokee, and also the  kayak-and-dinghy "tagalong combo," during the overnight camping trip of October 23-24. 
The "communal 'Hooverville'" quote – and the accompanying image – are courtesy of
lecinemadreams.blogspot.com/2012/02/bonnie-clyde-1967.html.  See also Hoovervilles and Homelessness – University of Washington.  
The lower image is courtesy of Swamp Water – Wikipedia.  That article describes the "1941 film directed by Jean Renoir, starring Walter Brennan and Walter Huston, produced at 20th Century Fox, and based on the novel by Vereen Bell.  The film was shot on location at Okefenokee Swamp, Waycross, Georgia, USA.  This was Renoir's first American film.  The movie was remade in 1952 as Lure of the Wilderness, directed by Jean Negulesco." 
*   *   *   *
And finally, as to possible other places to camp free, see RV Parking at Walmart | Walmart Atlas.   See also A Guide to Car-Camping – in Walmart Parking Lots and No Overnight Parking at Walmart | Walmart Atlas.  The upshot seems to be that you should be able to car-camp at some 80% of Walmarts around the country.  For another example – mobile home parks, as Steinbeck used – see Amenities & Rates – Arrowhead Campsites & Mobile Home Park.  That park – located in Ocala, Florida – offers an overnight tent-site rate of $17.00.