A Pamplona monument to running with the bulls.   (Something that is not on my bucket list!)
*   *   *   *
Some people reading "Hola! Buen Camino*" might think I had a lousy time in my five weeks hiking the Camino de Santiago in Spain.  For example, there was my comment on the first 10 days – after starting in Pamplona – being "pretty miserable.  My left foot constantly throbbed, until it blistered up and got tough."  And that it took about 10 days for that to happen.
But there were lots of good things that happened during those 30 days on the Camino…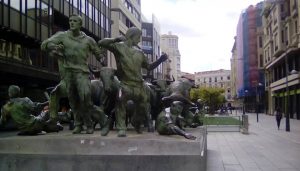 The good times started with Pamplona itself, where my part of the hike began.  I had drinks – two separate times – at the Café Iruña.  (Immortalized by Ernest Hemingway in The Sun Also Rises.)  And before the hike started my brother and I spent a day sight-seeing.  (During which I took my own photo of the "running of the bulls" monument, at left…)
Then too, at the end of the first day's hike we stayed at the Albergue Jakue, in Puente la Reina.  That was September 13, when we made 15 miles but didn't reach the albergue until about 8:00 p.m.  The good part:  "They had a $13 dinner special,* which included wine.  I GOT MY MONEY'S WORTH!"  To explain:  The wine came in a serve-your-own set of three spigots, not unlike those for draft beer.  (Except for the privilege of "pouring your own.")  
As I recall, there was a red wine, a white wine, and a rosé.  (And I noted that I had a good portion of each.  As added in my journal, "Did I mention that I got my money's worth on the wine?")
Perhaps fittingly – or preemptively – during that first day we had hiked up and over the 750-meter high Alto del Perdon.  (Also known as the "The Mount of Forgiveness.")  And as the link at left says:
It is a very windy place, and a long winding climb.  The path is not very steep but feels tiring…  Maybe the weight of unforgiven sins on our shoulders?  Once the top of the hill is reached, [the pilgrim-hiker] is welcomed by these statues representing pilgrims, braving the wind to continue their chosen path.  (Emphasis in original.)
For myself I was mostly glad that some enterprising lady had a "cafe movil," basically a truck-pulled trailer offering cold drinks.  And it was interesting to go "'horsing' around with some of the cut-out statuary at 'the Peak…'"  (The Peak of Forgiveness that is, as shown above right.) 
This is also a good time to mention that dinners on the Camino were universally delicious.  Most of the albergues featured a three-course special, including a salad, main course and choice of desserts.  Which may explain why – even though people said I "looked thinner" when I got back home – I actually weighed the same 160 pounds as when I left.
Then on September 14 we stayed at the Albergue de Capuchin, a pilgrim's hostel run by monks in a monastery:  "Though 'Spartan' it has wifi … and a shower, w/ washer/dryer and a restaurant downstairs."  That was in Estella, not to be confused with Estrella, "a lager beer, brewed in Barcelona, Spain."  (With which I became well acquainted, while in Spain.)
Getting back to the hike, September 16 "was tough. 17.3 miles, from Los Arcos to Logrono. We're both limping this fine Sunday morning.  I have an unpopped blister on the ball of my left foot…  I put a bandaid on it.  Then duct-taped a gauze pad on top of that."  But along the way we had gotten some "jamone" sandwiches to go, and later ate them in a copse next to the "Ermita del Poyo," or Hermitage of the Virgin of Poyo.  (As shown above left.)  
And incidentally, those "jamone" sandwiches became pretty much part of our daily routine.  Jamone is "basically a cured ham, thin sliced and dark hued, with cheese, on a half loaf of French bread," as I wrote.  I suppose the bread was actually "Spanish," but either way it was very chewy, as was the jamone itself.  Which led me to ponder at one point during the hike, "I wonder what people with dentures do for lunch in Spain, what with the chewy sandwiches?"
One answer?  They probably go hungry!
And speaking of routines, breakfast had a routine as well.  Fresh-squeezed orange juice – one feature I do miss about Spain – along with café con leche and tostadas.  (As in toast, or "more French/Spanish chewy bread, toasted and spread with butter and marmalade.")  But however routine those early meals of the day, "dinners on the Camino were universally delicious."
Unfortunately I'm approaching the limits of an ideal blog post – 1,000 words or less – so I'll have to wrap it up.  And what better way to wrap up an emphasis on the good parts of the Camino than the photo at right:  A "scene along the way:  A shepherd and his 'flocking' sheep."
I took that picture on September 17, the fifth day of hiking.  And aside from a quaint shepherd and his flock, you can also see "some fellow Peregrinos in the background, walking along the road."  That particular day featured a lot of hiking on macadam and asphalt highways, but with more than two months' hindsight, the picture above right made it all worthwhile.
Plus I discovered – in just checking my hand-written notebook – some more good parts of the Camino.  I wrote on September 15, "Two nice Spanish ladies helped us today.  One came from behind and zipped up my pack."  (As in the side pockets that I'd left unzipped.)  Then, "Another [lady] pointed us back to where 'we'd' made a wrong turn.  We had to hike across a field."
I remember that.  While the Camino is normally well-marked, there are times when you can get lost.  We'd taken what we thought was the right path, but then discovered there were no other hikers around.  That's when the Spanish lady took the time to point out the error of our ways.
But now I'm getting really close to the 1,000-word maximum.  So I'll wrap up with the picture below, from the first day off we took from hiking.  We reached Burgos – with a population of some 180,000 – on Friday evening, September 22.  (After 10 days hiking.)  After checking into our swanky hotel, we went out for a bite at the Cafe Dolar, an American-themed pizza parlor.
It was quite the Friday-night hot spot, and featured American-movie posters on the walls and ceilings, and some old-timey advertising posters and such.  I had such a good time that I went back Saturday afternoon, for a quick cerveza.  And to take the picture below.  (You can see my yellow-shirted arm to the left in the mirror.)  It was almost like being home…  (But better.)
*   *   *   *
*   *   *   *
The upper image is courtesy of Pamplona – Wikipedia.  Caption: "Monument to running of the bulls."
"Note" also that an asterisk in the main text indicates a statement supported by a reference detailed further in this "notes" section.  Thus, as to "Some people reading 'Hola! Buen Camino*,'" the full reference is to the post dated October 23, 2017, "Hola! Buen Camino!" – Revisited.  (As opposed to the "primitive" post I did while on the Camino itself, "Hola! Buen Camino," dated October 3, 2017.)  
And as to the "$13 dinner special," that would have been 13 euros.