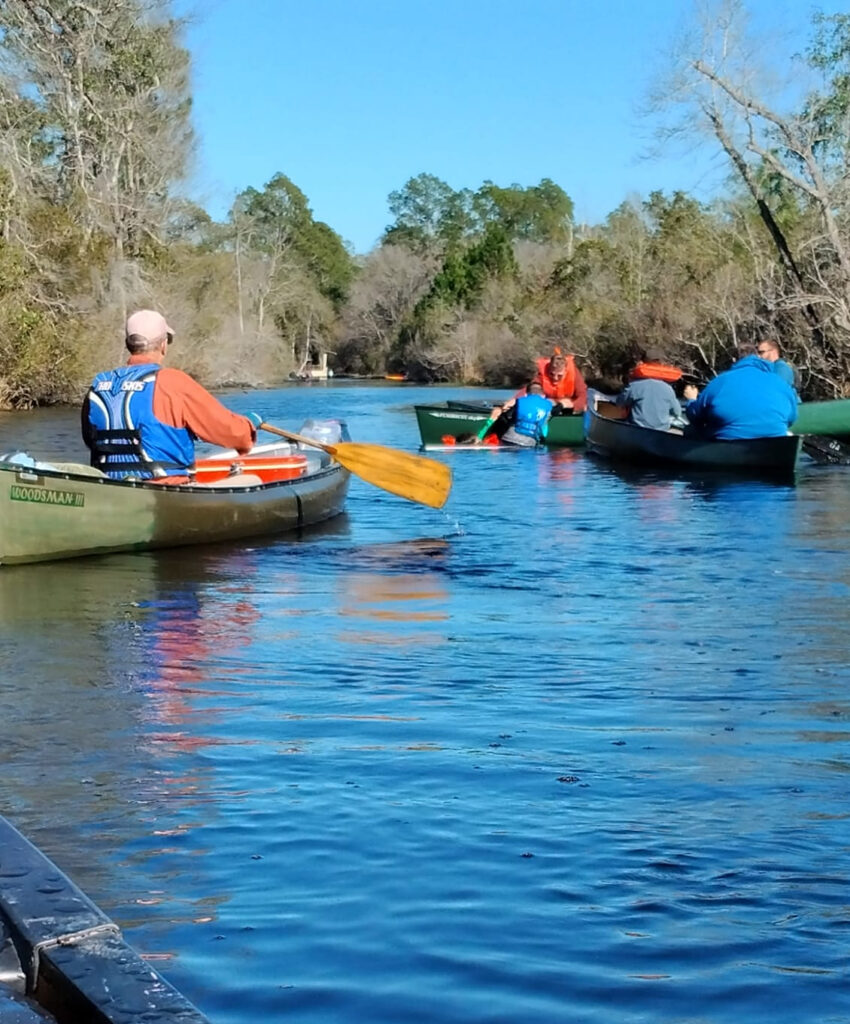 * * * *
My last two posts* talked about Finishing Some Unfinished Business. The unfinished business was paddling a kayak – or canoe – all the way across the Okefenokee Swamp, from east to west. I first got the idea of doing that back in early 2015. It took awhile – eight years in fact – but just this past February 2023 I finally got to say, "Mission Accomplished!"
But first I need to apologize. It's been over a month since I last posted, on Getting "ready, for the Okefenokee." And we finished the job on February 18, well over three weeks ago. But since I've "mission accomplished" – and so likely won't be going back into the Swamp again – I wanted to make this my magnum opus on the subject. And to explain why anyone in his right mind would go into such a place. A Swamp that's been called "sinister," "mysterious," and full of lurking dangers beneath those seemingly tranquil waters. (Gators, cottonmouths and the like.)
As explained in 2015's Operation Pogo, it all started when I was 10 or 12 – I'm 71 now – and saw the movie Swamp Water. (That would be back in the early 1960s.) In one scene I watched in horror as Walter Brennan got bitten on the cheek by a smiling – and sinister – water moccasin. (As he knelt over to part some bulrushes and get a drink, of "swamp water.")
I've been fascinated ever since…
I suppose it's a matter of "that which horrifies us also fascinates us." (Kind of like how I used to feel about visiting New York City.) But back to the subject at hand…
My first time in was a simple day trip in September 2015. I paddled in from the east, with no supplies. The trip took about two hours. I just wanted to get a feel for speed, to see how long it might take to cover the water miles from east to west. Based on that limited first outing, I thought I could bisect the Swamp in two overnight trips. (One from the east entrance and one from the west.) That didn't happen, not for another eight years anyway, and took this year's extra five-day trip. But as it turns out, if you can paddle two miles in an hour, you're doing good.
My first real try came weeks later, in October 2015. I put in at the Suwanee Canal Recreation Area (SCRA). I had the same kayak, with a "tagalong." (A small rubber dinghy, towed and holding camping supplies and cooler, complete with two cold beers.) Unfortunately, that time of year is popular, so most platforms were already reserved. The only shelter available was Cedar Hammock, a mere three miles in from the SCRA. Paddling to Cedar Hammock didn't take long, so I headed down toward Monkey Lake, for exercise. But I had to turn around early and paddle back to Cedar Hammock, in the dark. (Complete with slews of grabby water lilies to paddle through.) The second day I made it as far west as the Coffee Bay day shelter. (No camping allowed.) Bottom line: I didn't make much bisecting progress on that first trip.
Then in June 2016 I kayaked in from the west side. I put in at Stephen C. Foster State Park, east of Fargo, Georgia. As noted, my original plan was to bisect the Swamp, east to west, and this time I made it to the CANAL RUN shelter I'd reserved. (Nine miles in from Foster State Park.) That was still an all-day paddle, and it still left a big gap between Canal Run and Coffee Bay.
But finally, last February 2023 and eight years after my first attempt, I closed the gap between Canal Run and Coffee Bay. I had finally bisected the dreaded Okefenokee Swamp.
* * * *
I never let the dream die, even as years passed. Then came a boost from my brother.
Last September (2022), Tom, his wife Carol and I hiked 150 miles on the Way of St. Francis, in Italy. Somewhere hiking in the Appennine Mountains I mentioned this "Unfinished Business." (Possibly over a cold beer at the end of a long day's hike.) A bit to my surprise, Tom expressed interest, possibly at the prospect of enjoying a break from "icy arctic blasts" such a part of winters in Massachusetts. We settled on a tentative date, in mid-February 2023.
The result was a plan to take five days, using Tom's two canoes, instead of one eight-foot kayak. (Towing a rubber-dinghy tagalong.) I've done two earlier posts* on preparing for the trip, and closed the last one saying, "I'll keep you posted." So, here's that final report.
* * * *
For starters, on Monday February 13, we met up at the Newell Lodge, northeast of Folkston. As it turned out, Folkston was halfway between the Lodge and the east entrance (SCRA). That night we packed up what we could. I had my last shower and last cold beer until the following Saturday. Four nights without a beer or shower. Not a real shower anyway; I brought along some Dude Shower Wipes. (One of many alternatives, I just learned via internet.)
The next morning, Tuesday, February 14, we put in at the SCRA boat ramp about 10:30. Our goal for the day was Monkey Lake shelter, seven miles away. (The Monkey Lake I tried to reach back in 2015.) Along the Suwanee Canal, and up until the turnoff to Monkey Lake, we played paddle-tag with a boat full of tourists, complete with a guide yakking on a bull horn. He'd stop and talk awhile and we'd pass him, then he'd motor by and get up ahead of us, then stop again. It was annoying in a way, but we heard some gems along the way. Once he pointed out the plentiful Spanish moss lining the Canal, and said that such "moss" is related to pineapples. (?)
We got to Monkey Lake by 3:30, after five hours on the water. (With breaks and a short Lunchables lunch.) Two breaks involved standing up in the canoes. Very carefully. (I call them "butt breaks" because paddling five hours without changing position really gets to you.) At the shelter we first unloaded the canoes, then set up our tents. For supper – the one hot meal of a typical canoeing day – we had hot dogs and baked beans, with crackers and a fruit cup dessert. After that I washed the dishes and enjoyed a shot or two of "O-be-joyful."
Which brings up a word about "washing those dishes."
The first step involves "slooshing" the sticky stuff off plates, pans and dinnerware, followed by a real wash and rinse with hot water from the camp stove. And two of the shelter platforms were heavy-duty plastic going all the way down into the water. But the other two, Monkey Lake and Canal Run, were raised wooden decks. They left a gap between the bottom of the deck and the water, and with my active imagination I could just see a gator lurking underneath that deck. (Attracted by the slooshing and food particles.) Nothing ever happened, thankfully. On the other hand, I did "sloosh" those dishes very quickly on the two wooden-deck camping platforms.
That gap between the water and bottom of the deck reminded me of my 2016 second trip in. Because it was so early in the season, the canoe-only trails were much vegetated-over. Which meant that many times I had to "butt-scootch" the kayak over a barely-sunken log. Sometimes I also had to stick my hand out, grab another branch and finish pulling the kayak over. The last time I reached my left hand out I saw a patch of white. It turned out to be a gator – a small one, but a gator – "smiling" nicely at what he thought was a tasty snack.
That memory came back as I slooshed the dinner dishes at Monkey Lake camping shelter.
But, dishes done and O-be-joyful enjoyed, that first day ended with dusk and a chill setting in at 6:15. I'd brought along a head lamp, and stayed up – in the tent, away from the mosquitoes – reading and also writing in a journal. I actually sat in my camp chair, beside the cot, inside the tent. That brings up the fact that I love my new bigger "six-person" tent. Even with its bent support-pole, courtesy of an 80-mile-an-hour windstorm on the Missouri River back in 2020.
We retreated to our tents that early the next three nights as well; in our cots and at least trying to sleep for the next 11 or 12 hours. Much different than my daily routine back home.
Also different from my daily routine back home: Seeing so many alligators sunning themselves on the banks of the Suwanee Canal, and also in those Okefenokee "prairies." But my magnum opus is getting way too long for one post, so I'll have to continue it in a "Part Two."
In that Part Two I'll describe the last three days of our Okefenokee adventure. That will include the climax – the denourment if you will – of the trip: Where a canoe with two Scouts in it capsized, not far from where I photographed this gator. Stay tuned!
* * * *
* * * *
I took the picture at the top of the page. The "scout overboard" incident happened on the last of our five days canoeing around the Okefenokee. Also, for this post I borrowed from past posts including Getting back up to speed – for canoeing and Another paddling adventure – January '23. And it all pretty much started in 2015 with Operation Pogo – "Into the Okefenokee" and following.
The descriptive terms "sinister" and "mysterious" came from the cover of the Swamp Water DVD I just got from a local library, based on the original movie poster.
Re: Cottonmouths. See Agkistrodon piscivorus – Wikipedia, on the "pit viper in the subfamily Crotalinae of the family Viperidae … one of the world's few semiaquatic vipers … and is native to the southeastern United States. As an adult, it is large and capable of delivering a painful and potentially fatal bite." I didn't see a single cottonmouth in any of my four excursions.
Re: The Canal. "The Suwannee Canal was dug across the swamp in the late 19th century in a failed attempt to drain the Okefenokee. After the Suwannee Canal Company's bankruptcy, most of the swamp was purchased by the Hebard family of Philadelphia, who conducted extensive cypress logging operations from 1909 to 1927." Okefenokee Swamp – Wikipedia.
Re: Tom's two canoes. The same canoes we used for the the July 2020 trip down the Missouri River. (Sioux City to Omaha.) See On my "new" Missouri River canoe trip. Apparently I never did a post-mortem on that trip, even though it featured us surviving an 80-mph windstorm that obliterated Tom's tent, and left my tent with a fractured support-pole that I had to repair with a lot of duct tape. The COVID outbreak had just started, so the post included a lot of detail about how to stay healthy on the up to and back from the trip. We used the same canoes for a trip from Kingston Ontario up to Ottowa in 2018. See The "Rideau Adventure" – An Overview.
Some nuggets about Spanish moss. It has been used as building insulation, mulch, packing material, mattress stuffing, and fiber. In the early 1900s it was used commercially in the padding of car seats. In the desert regions of southwestern United States, dried Spanish moss is sometimes used in the manufacture of evaporative coolers, "colloquially known as 'swamp coolers.'" Wikipedia. See also The Antioxidant Benefits of Spanish Moss – WholisticMatters.
Re: The second (2016) trip in, to the CANAL RUN shelter, nine miles in from Foster State Park. Among other things I saw fifty alligators during the first hour of paddling. After that I stopped counting.
"O-be-joyful" is a code-word for ardent spirits. We brothers – originally four of us – started packing samples in past canoe trips, like down the Missouri River from Fort Benton, MT. That was a way of following in the footsteps of Lewis and Clark, and other American pioneers. Back in the old days of our country, whiskey – for example – was used instead of hard currency:
One of the first media of exchange in the United States was classic whiskey. For men and women of the day, the alcohol did more than put "song in their hearts and laughter on their lips." Whiskey was currency. Most forms of money were extremely scarce in our country after the Revolutionary War, making monetary innovation the key to success.
See Why Whiskey Was Money, and Bitcoins Might Be.
I also took the Gator picture at the bottom of the main text. But he was a good mile or so away from the capsized canoe. (I'm pretty sure…)
* * * *