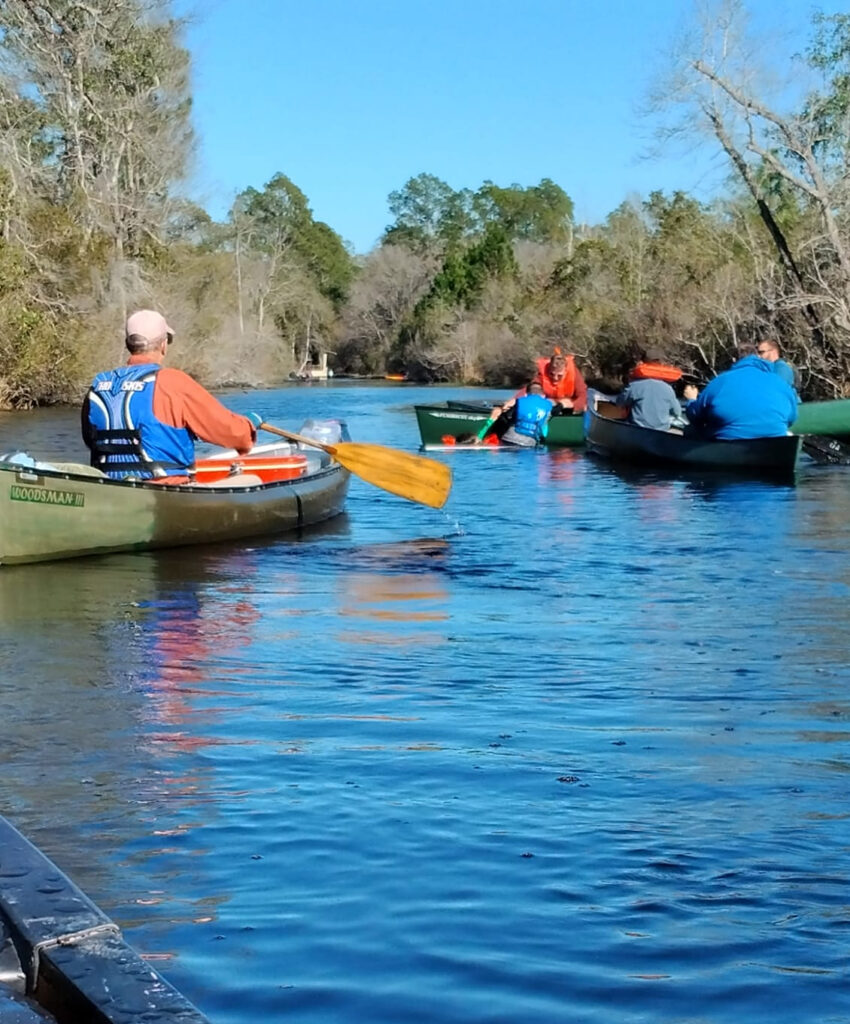 * * * *
This post presents the second half of my account of paddl[ing] across the Okefenokee!
In Part One I wrote about finally bisecting the Okefenokee Swamp, eight long years after I first got the idea. I wanted to paddle a kayak – or canoe – all the way across, from east to west. From the east entrance at the Suwannee Canal Recreation Area, near Folkston, then from the west entrance at Foster State Park, near Fargo, Georgia. And "meet in the middle.*"
Part One included background, like how I got so fascinated by the Swamp in the first place. It went on to describe my brother Tom and I starting the trip. We put in at the SCRA east entrance last February 14, a Tuesday. (And Valentine's Day.) We made it down to Monkey Lake camping shelter. But that Tuesday is pretty much as far as I got in the post. I told of the first day's paddling, and how I "slooshed" the dinner dishes that night, leaning over into the water. (With an eye out for lurking gators, lest I be "surprised") And of closing the day with a shot or two of O-be-joyful, which itself has a fair amount of American historical precedent.
Briefly, in my first attempt in 2015 – paddling an eight-foot kayak, towing a small "tag-along" rubber dinghy – I got as far west as Coffee Bay shelter. In my second try – in the same kayak and tag-along – I made it as far east as the Canal Run shelter. For this last try Tom and I each had a canoe, which gave us a lot more room for traveling supplies. My goal – at least – was to close that wide gap between the Coffee Bay and Canal Run shelters.
And with that, to finally say I'd paddled all the way across the Okefenokee, east to west.
Moving on, to Wednesday, February 15 – On this second day of the trip we paddled the seven water miles from Monkey Lake back up to the Cedar Hammock shelter. That's the shelter where I camped, alone, eight years before, my first overnight trip into the Swamp. We saw a local gator lurking, looking for handouts, but I doubt it was the same one I'd seen back in 2015. Plus, back in 2015 I had a small "two-man" tent, along with a camp chair and two beers in a cooler. But the mosquitoes were so bad – that 2015 October – that I didn't get a chance to enjoy the camp chair much. I had to retreat to that tiny tent way early in the evening.
This time I had a new, bigger "six-person" tent. Big enough to fit a cot, camp chair and all my five days' supplies inside. Also on that Wednesday paddle up from Monkey Lake, Tom tried paddling while standing up in the canoe. I never tried that; for much-needed "butt breaks" I'd paddle while kneeling in the bottom of the canoe. Incidentally, the next Thursday, February 16, paddling over to Canal Run, we saw a guy coming the other way. He paddled standing up, with his long white hair and long white beard. He and the canoe looked "as one," as if it was a part of him. And they both looked like they'd been in the Swamp a long, long time.
Which brings up a word about the Okefenokee type of swamp. The Suwanee Canal – where we started on Tuesday and spent all day Saturday on, heading back – runs through the swamp, east to northwest. It's lined with lots of trees – cypress, mostly – along with downed trees, underbrush and lots of developed "trembling earth." (Okefenokee means "Trembling Earth.")
Along the Suwanee Canal there there are some places to stop and get out, if you check those places carefully and wear rubber boots. (At least up to the knees.) But most of the rest of the swamp – including the way up from Monkey Lake – is made up of "prairies." Unlike the Canal and its tree-lined banks, the prairies offer no place to stop for a butt-break. (Unless you stand up in your canoe.) And they have nothing to block the wind.
We learned that lesson on a windy Thursday, February 16. We "played bumper cars." The wind bounced us from one side of the eight-foot channel to the other. (And tangled us up in water lilies, small bushes or swamp muck.) The prairies also have lots of swamp grass, for lack of a better term. It looks very dry, even though it's rooted in water – and that muck. But the gators love it; they love to sun themselves on the matted-up grass that lines most prairie channels.
Thursday, February 16 – This was our first long day, 11 miles paddling to get up to the Round Top shelter. Probably for that reason I didn't write anything in my journal that evening, after our first day of paddling 11 miles. (Instead of the previous seven miles each, Tuesday and Wednesday.) But that gap gives me a chance to explore the issue, Why? "Why would anyone in his right mind paddle into the Okefenokee Swamp for five days?"
I offered some ideas in March 2015's "I pity the fool!" Starting with a combo-quote from Ralph Waldo Emerson and Mr. T: "I pity the fool who doesn't do pilgrimages and otherwise push the envelope," even at the ripe old age of 71. (In my case.) Also in my case, a quote from when I paddled my kayak miles out into the Gulf of Mexico, to achieve some much-needed closure:
Every once in a while I'd pause, turn off my stop-watch and just enjoy the feeling "of being somewhere, someplace that no one else in his right mind would ever be." I imagine the explorers back in the olden days had something of the same feeling.
I had other quotes from Emerson and John Steinbeck, on how most people give up and slow down as they age. (While a limited, feisty few don't.) But maybe the best answer came from our hike on the Way of St. Francis 2022. We'd say, "It beats playing Bingo at the Senior Center!"
Back to Friday, February 17 – Our original plan for today was another 11-mile paddle, ending up over at the Canal Run shelter. The actual distance from Round Top shelter to Canal Run would make a very short day, so we planned a scenic detour. We'd paddle up to Floyd's Island and then back down to Canal Run. But some time on Thursday afternoon – paddling those 11 miles – we came up with a Plan B. "The heck with Floyd Island, let's just paddle straight over to Canal Run." ("Straight" being relative, as in "relatively straight.")
I say "relatively" because the National Geographic map shows open water straight west from Round Top over to Canal Run. But the touristy canoe trail – the one you're supposed to use – shunts way up to the northwest, then trickles back down southwest. (Effectively doubling the paddle-time.) But since discretion is the better part of valor – so they say – we decided to follow the boring canoe trail. Which turned out to be not so boring, and brings up the fact that it's actually pretty hard to get lost in the Okefenokee. The Suwanee Canal is well marked, as are the canoe trails leading off from it. (Mostly, except for one exception detailed in the notes.)
In other news, tonight the local gator at Canal Run got a bit too close, so Tom whacked him on the head with a paddle. He still hung around, but stayed just out of paddle-whacking distance.
Saturday, February 18 – This morning came after the coldest night of the trip. It got down to 38 degrees. I had the same sleeping bag I used canoeing 440 miles down the Yukon River,* but it was still hard to sleep. In the morning, first getting up, I stumbled around like the proverbial drunken sailor. I wasn't drunk. My feet were just that numb from 12 hours of cold. But we started that cold morning knowing that at the end of the day we'd have a hot shower, a cold beer and a warm bed to look forward to. ("Straight" down the Suwanee Canal.)
This was the second-longest day, 10 miles from Canal Run back to the SCRA east entrance.
We made it to the Coffee Bay shelter for lunch, and there ran across a Scout troop. Five adults and seven teenage boys, with lots of horse-assing around. (By the teenage boys.) They eventually left, but we kept running into them on the way back. The last time was almost back to the SCRA take-out. As shown in the picture at the top of the page, that's where two young Scouts managed to capsize their canoe. This was 15 or 20 minutes after I'd taken the picture of the gator shown at the bottom of the page. (15 or 20 minutes earlier, I think.)
But Tom paddled over and helped them get back in. (With no appearance from the local gator who I've heard hangs around SCRA waters.) Incidentally – and on that note – it was only a day or two after we got back that I read about the 85-year-old woman killed in an alligator attack at a Florida golf course. (I'm glad I didn't read that before we started.)
But seriously, that brings up the question: "How did the Okefenokee get such a lousy reputation?" Is it a Haven of Serenity or a "Deadly Swamp?" Some Okefenokee devotees "swear by its ability to envelope visitors in a haven of serenity." So there are devotees of the Swamp, and I count myself one of them. I found it a haven of serenity, even with the gators, mosquitoes, and butt-numbing paddling. But offsetting that was the peace and quiet, and a chance to get away from the phone and internet agitations that are so big a part of modern life. Then too:
Alas, as we get up in life, and are more preoccupied with our affairs, even a holiday is a thing that must be worked for. To hold a pack upon a pack-saddle against a gale out of the freezing north is no high industry, but it is one that serves to occupy and compose the mind. And when the present is so exacting, who can annoy himself about the future?
Which is pretty much what I found, paddling away for hours in the quiet marsh. My mind "occupied and composed," so much so that I wasn't annoyed by future problems. Or by the problems of our "now" outside world for that matter. (The quote is in 2015's "I pity the fool," from Robert Louis Stevenson's 1879 book, Travels with a Donkey in the Cévennes.)
On the other hand there's the negative image from that 1941 movie Swamp Water. I've noted how watching it back when I was 11 or 12 got me so fascinated by The Swamp in the first place. Especially watching in horror the scene where Walter Brennan gets bitten in the face by a smiling, evil-looking Cottonmouth. And I think a lot of the Okefenokee's bad reputation stems from that movie. So "what I'm gonna did" – as Justin Wilson used to say – is review that movie in my next post. I'll also explore how "Hollywood" can often distort reality.
In the meantime, I enjoy the feeling of accomplishment now that I've finally paddled across the Okefenokee, east to west. I've crossed that off my Bucket List. (Gators and all.)
* * * *
* * * *
I took the picture at the top of the page. The "scout overboard" incident happened the last of five days canoeing around the Okefenokee. Also, for this post I borrowed from past posts like Getting back up to speed – for canoeing and Another paddling adventure – January '23. And it all started in 2015 with Operation Pogo – "Into the Okefenokee:"
"Meet in the middle." Coming from the west, to get to the shelter I'd reached heading in from the east.
Re: "Two-man" tent. I put the term in quotes because one person can barely fit into a two-person tent. As far as the "six-person" tent, Tom and I shared mine after his tent got trashed by the 80-mph windstorm on the Missouri River. It was a tight squeeze with two people, along with their cots.
Re: The second (2016) trip in, to the CANAL RUN shelter, nine miles in from Foster State Park. Among other things I saw 50 alligators in the first hour of paddling. After that I stopped counting.
"O-be-joyful" is a code-word for ardent spirits. We brothers – originally four of us – started packing samples in past canoe trips, like down the Missouri River from Fort Benton, MT. That was a way of following in the footsteps of Lewis and Clark, and other American pioneers. Back in the old days of our country, whiskey – for example – was used instead of hard currency:
One of the first media of exchange in the United States was classic whiskey. For men and women of the day, the alcohol did more than put "song in their hearts and laughter on their lips." Whiskey was currency. Most forms of money were extremely scarce in our country after the Revolutionary War, making monetary innovation the key to success.
See Why Whiskey Was Money, and Bitcoins Might Be.
Re: "Trembling earth." See Floating Peat Islands: The Land of Trembling Earth: "Methane gas under decomposed organic peat causes peat blowups, forming mud peat batteries where herbs and grasses grow. Okefenokee means trembling earth, because of these peat islands." The article quoted a book on the Swamp, with its "mass of floating vegetable forms, intermingled with moss drift and slime." The mass formed a "compact floor," capable of sustaining one character's weight. But he saw that although the mass "did not at once break through beneath him, could be seen to sink and rise at every step for twenty feet around."
Re: 2015's "I pity the fool!" I'll be updating it after my next post, a review of Swamp Water.
Re: "Mostly," as "detailed in the notes." And on it being hard to get lost in The Swamp. It's well marked, including the canoe trails that go off from Suwanee Canal. But there was one time when we got near the Suwanee Canal, heading to Canal Run. It looked like the powers-that-be had cut off access to the shelter I was aiming for, "just to piss me off." I paddled a ways up past the "area closed" sign but didn't see any way through. When I got back Tom had checked his map, always a good thing to do. The lesson? In my case don't over-react and assume people are out to piss you off for no good reason. And by the way, I kept this out of the main text in the interest of UCC, "that unity and coherence crap." My family tells me my writing "goes all over the place," and I'm trying to fix that. Also, the episode was mostly just embarrassing to me, though it did provide a bit of extra exercise.
Re: Canoeing 440 miles on the Yukon River. See for example, "Naked lady on the Yukon." For another canoe adventure, this time in Canada, see "Naked Lady" – on the Rideau Canal?
The Okefenokee quote about its being a "haven of serenity" is from an article in the Atlanta Journal-Constitution, Sunday, February 5, 2023, page B5. My brother Bill gave me that story a week or so before I left to head down to Folkston.
Re: Alligator attack. For further reading see An alligator killed a Florida woman. It doesn't happen often, but here's what to do if a gator attacks. Among the nuggets of wisdom: "Predators want easy meals, not battles." Adult humans are normally considered too big for an alligator, but "a child or small animal — those they're going to want to go for." Also, "the sound of dogs playing or barking can actually attract alligators to an area."
Re: "Donkey in the Cevennes." Our next big adventure, coming up this September 2023, is hiking the Robert Louis Stevenson Trail … in France. See also GR 70 – Wikipedia. We'll travel without the donkey.
Re: Hollywood distorting reality. Google "hollywood distort reality," or see 6 Ways Movies Subtly Distort Reality | Mental Floss, or A Few of the Many Ways We Distort Reality | Psychology Today.
* * * *