Does this look like the face of a president about to be impeached … within two years or otherwise???
*   *   *   *
My last post was on March 22.  Since then, aside from a "pain in the back," I've undergone some other big  life events including but not limited to a surgery – like the one at right – to have a lens put back in one eye.  (See On that nail in my right eye.)
But now things have calmed down a bit, even if only in my own life.  Which means I can get back to blogging…
And speaking of stress:  How about that Donald Trump? 
On that note, here are some recent predictions that "the Donald" will end up impeached.
Two are from "one day ago," as of May 9, 2017.  One said Attorneys Explain Why Trump Must Be Impeached!  (Which included the image at left.)  The second said, 2 Men Pass Away Happy After Believing … Donald Trump Was Impeached:
Two people who recently passed away were led to believe President Trump was impeached. Corliss Gilchrist, of Iowa, was told by a loved one that "Trump's impeachment process had begun so he would rest in peace," according to Gilchrist's obituary.  Gilchrist was a few days from turning 92 years old.  In Oregon, relatives say Michael Elliott, 75, passed away peacefully last month as soon as he was told Trump had been impeached.
The third one – from April 29, 2017 – said this:  After first 100 days, Trump impeachment seems like a safe bet.  That was from the New York Daily News, which – by the way – endorsed George W. Bush for president in 2004, Barack Obama in 2008, and Mitt Romney in 2012.  (Arguably showing an editorial stance best called "'flexibly centrist' with a populist streak.")
Briefly, the Daily News compared certain before-and-after "expert predictions" about Trump.  (The paper used the front page at right in 1975, about then-president Ford.)  The first predictions were made in January, and the second set came after Trump's first 100 days in office.
In January the four experts said – ahead of the inauguration – that Trump had "set himself for potential impeachment."  After those first 100 days, the predictions got worse:  "The trouble Trump took to the White House has only deepened or expanded in his short tenure…"
But heck, I was saying that back on Election Day.  (November 8, 2016, in case you forgot.)
On the morning of November 8 – when everyone and his brother were predicting Hillary Clinton would be the next president – I prepared some notes, "Just in case Trump gets elected."
It's simple math.

Half the country already hates him – and what he seems to stand for.  On the other hand, a large majority of people willing to vote for him simply and sincerely believe that "Washington" is broken and needs to be shaken up.  Or they simply can't stand Hillary…
That last was based on an observation that 51 percent of Trump backers "mainly oppose Clinton, rather than supporting him."  That in turn was from the online article, Clinton Continues to Expand National Lead, posted early on the morning of November 6, 2016.
Which brings up the fact that I have that Paranoid Streak shared by many Americans.  Which is another way of saying that in the months leading up to Election Day, I had many a sleepless night, in large part based on the nightmare that Trump might actually end up getting elected…
(That is, on many a sleepless night leading up to the election, I would wake up and have to check the latest online posts, just to make sure the polls still showed that a Responsible Adult would be the next president, not Donald Trump…)  
But he did get elected – I still don't know how – and the "horror" turned out to be not as bad as expected.  (Or as those great philosophers Crosby, Stills & Nash once said, "You will survive being bested…)  One of the reasons for that includes but is not limited to the fact that the "Sovereign People" seem to be finally coming to their senses, when it comes to "the Donald."
But we digress…  
I was writing about a prediction – back on Election Day – that even if Trump did get elected, he probably wouldn't serve a full term.  Then – based on a poll in February – I added this:
If Trump turns out to be as bad as people expect – based on how he presented himself, both in his campaigns and in office – fully 75% of the country could be strongly against him by the time of the mid-term elections in 2018.  Which could turn out to be a single-issue race.

For example, challengers for Congressional office could be elected based on the simple vow: "I will vote to impeach Donald."  (Or convict him, in races for the Senate.)  So in simple self-defense – or more precisely, in hopes of keeping their jobs – those Members already in office will "do a preemptive:"  Move to impeach and convict before the election.
(The poll in question was titled Does Trump's support have a ceiling — or a floor?)
All of which seems to be coming true.  See for example this from May 10, Poll: Trump's approval rating sinks, near new record low as base support shrinks, which noted that " just 36 percent of registered voters approve of the president's job, with 56 percent saying they disapprove."
And by the way:  Speaking of the Russian connection, whatever happened to Boris Epshteyn?
According to Wikipedia, Epshteyn served as the "Assistant Communications Director for Surrogate Operations" for the Trump Administration.  Wikipedia added that he served just a little over two months, from January 20 – when Trump took office – to March 25, 2017.
Do you think maybe he was setting a precedent???
*   *   *   *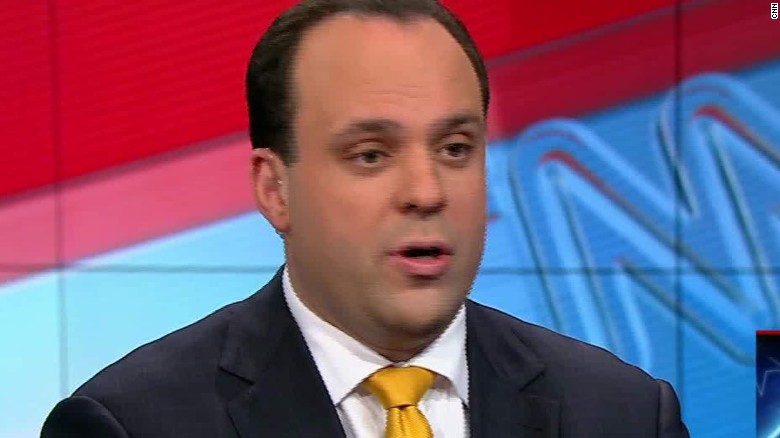 *   *   *   *
Notes:
The upper image is courtesy of After first 100 days, Trump impeachment seems like a safe bet:
President Trump has courted so much constitutional disaster in his first 100 days that an impeachment now seems like a safe bet, government ethics experts say…  In January, the Daily News spoke with four experts ahead of Trump's inauguration about how he had set himself for potential impeachment from the moment he took the Oath of Office.  The experts highlighted Trump's financial conflicts of interest, his hints at obstruction of justice and his potential for perjury in dozens of open lawsuits.  No other President, they argued, had ever taken the job with so many causes to lose it.

The News checked back with those same four experts about Trump's first 100 days, and they saw only more reasons to anticipate an ouster.  The trouble Trump took to the White House has only deepened or expanded in his short tenure, they said.
For more on the New York Daily News, see Wikipedia, which noted this:
The New York Times has reported that the Daily News has consistently "occupied an inimitable niche, speaking to and for the city's working class and offering a schizophrenic mix of titillating crime reportage and hard-hitting coverage of public issues…  The Daily News's editorial stance is "flexibly centrist" with a populist streak.  In presidential elections, the paper endorsed Republican George W. Bush in 2004, Democrat Barack Obama in 2008, Republican Mitt Romney in 2012, and Democrat Hillary Clinton in 2016.
The nightmare image is courtesy of wallpapers: Nightmare Wallpaperswallpapers-xs.blogspot.com.
The lower image is courtesy of Trump aide Boris Epshteyn leaving White House.  (CNN.)  See also Boris Epshteyn – Wikipedia.