Billy Graham (at right):  To some "rightist" Christians, Graham was way too "ecumenical…"
*   *   *   *
I learned something new about Billy Graham.  I learned that some far-right preachers compared him to the Antichrist…
That is, lately I've been listening to the book-on-CD version of The Preacher and the Presidents:  Billy Graham in the White House. (Nancy Gibbs and Michael Duffy.)  I skipped over the early parts, about Graham when he was young and full of himself.  And way more conservative than he was in later life. 
Which is another way of saying that  – as he grew in age – Billy Graham "also grew in grace."  (See 2d Peter 3:18.)
Graham eventually grew in grace so much that he came to believe that God loves all people – even Liberals.  Which led some fundamentalist Christians to criticize him "for his ecumenism, even calling him 'Antichrist.'"  On that note, see Deuteronomy 19:16-19.
(Deuteronomy 19:16-19 says that if you accuse someone of a crime and he's not guilty of it, you are punished as if you committed the crime yourself.  So if you accuse someone of being "Antichrist" and he's not, you get punished as if you were the Antichrist.)   
But we digress…
That is, on the other hand Graham started out as a Biblical literalist.  That led to an early confrontation with fellow evangelist Charles Templeton.  It's described at pages 2-4 of the "book book," but you can see an Oniine version at Billy Graham and Charles Templeton:  The Sad Tale of Two Evangelists.  (See also Heresy in the Heartland: Charles Templeton.)   
In essence, it started with Templeton telling Graham:
Billy, it's simply not possible any longer to believe, for instance, the biblical account of creation.  The world was not created over a period of days a few thousand years ago;  it has evolved over millions of years.  It's not a matter of speculation; it's a demonstrable fact.
Graham responded, "I don't accept that…  I believe the Genesis [account and] I've discovered something in my ministry:  When I take the Bible literally …  my preaching has power."
Nevertheless, this was the man some Christians called "Antichrist."  It started as early as 1957, when – after a crusade in New York – some fundamentalist Protestant Christians criticized Graham for his "ecumenism."
40 years later he continued to express inclusivist views.
That is, he dared suggest that some people without explicit faith in Jesus can be saved.  For example, in a 1997 interview with Robert Schuller, Graham said:
I think that everybody that loves or knows Christ, whether they are conscious of it or not, they are members of the body of Christ … [God] is calling people out of the world for his name, whether they come from the Muslim world, or the Buddhist world or the non-believing world, they are members of the Body of Christ because they have been called by God. 
In response, Iain Murray – writing from a conservative Protestant standpoint – said "Graham's concessions are sad words from one who once spoke on the basis of biblical certainties."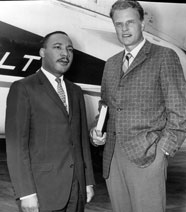 But see Why Do Liberals Love Billy Graham? (HuffPost.)  An example:  He was asked about two candidates for president, one "more learned and qualified," the other a devout Christian.  How would he vote?
I'd pick the experienced and confident one…  I don't think that we should vote for a person just simply because he says he's a Christian.  I think we need confident men of integrity in places of responsibility.  We are living in a secular society.  We have a separation of church and state in this country.
Graham added that he doesn't "play God," saying who is saved and who isn't.  The article concluded that Graham "managed to achieve that rare balance of fierce conviction and humane humility…  He would not condemn.  His mission was to comfort and inspire."
Which brings us back to Ecumenism.  It's the effort "by Christians of different Church traditions to develop closer relationships and better understandings."  (See also Is ecumenism biblical?  "Gotquestsions.org.")  Which means we could use a good dose of "Billy Graham" today.
We could use a popular preacher who "doesn't play God."  We could use a popular preacher with "humane humility."  We could use a popular preacher whom does not condemn, but rather focuses exclusively on comforting and inspiring.  We could use a popular preacher who wouldn't vote for a man "just because he says he's a Christian."
That is, for another – broader – view more you could check Ecumenical Synonyms … Thesaurus.com.  Synonyms for "ecumenical" include open-minded, receptive, tolerant, broad-minded, unbigoted, charitable, inclusive, and/or unprejudiced.  And they are good.
Because without such principles – without, for example, developing "closer relationships and better understandings" – you could end up with something like this:
*   *   *   *
*   *   *   *
The upper image is courtesy of Billy Graham Bill Clinton – Image Results.  The photo is in "Billy Graham: Pastor to the Presidents – True Christian or FreeMason 'Christian.'"  (From the "Orthodox Christian Channel.")  The gist of the article was that Graham was a Mason.  Among the quotes:  
Billy Graham called Bill and Hillary "wonderful friends" and a "great couple."  Billy Graham also had former country and western superstar Johnny Cash, known to be a Mason, perform at his crusades on numerous occasions.  
The images in the main text are courtesy of the linked-articles in the adjacent paragraph.
The lower image is courtesy of Donald Trump – Image Results.  See also 'Mi Dulce' – and Donald Trump – made me a Contrarian, which featured the image.