At least you could easily tell the Bizarro version – seen above – from the real Superman…
*   *   *   *
Remember "The Name Game?"  It was a popular song by Shirley Ellis, released in 1964.  it hit #3 on Billboard Charts, as a rhyming game that created "variations on a person's name."  So if we played the game today – with the name of our new president – the variation would be:  "Donald, Donald, bo-bonald, Banana-fana fo-fonald, Fee-fy-mo-monald, Donald!"
And speaking of parlor games…
Some time ago I planned a post on "Bizarro Trump."  (A name that to some may seem "redundant redundant.")  The allusion would be to the Bizarro Superman, as shown at left.  But as noted, the project is turning out to be way more complicated than I ever imagined.*
As noted in a previous post, "That's mostly because it's becoming increasingly difficult these days to tell which version of 'the Donald' is more weird:  Bizarro Trump or the real thing."
For example, during the campaign Trump threatened to jail Hillary Clinton if he won.  But once he did win, he changed his mind.  (See Trump flips, now opposes prosecution for Clinton, posted 11/22/16.  See also Statement About Putting Hillary in Jail Was a "Quip.")  Then there was Trump's red-meat campaign promise to "kill Barack Obama's unilateral actions to shield hundreds of thousands of young undocumented immigrants from deportation.*"  But then just today – February 21 – he changed his mind again.  (See Trump to spare U.S. 'dreamer' immigrants from crackdown.)
So which is the real "Donald," and which is the "Bizarro Trump?"
In light of the foregoing, here's another stopgap post while I figure this guy out.
Getting back to the new "Bizarro Trump parlor game…"  The goal in that new game would be to come up with whatever crazy responses, arguments and comments that may pop into your mind.  And which were – or are – the complete opposite of what the real Donald would say.  But as we've seen, that's getting harder and harder to figure out.  But there is one thing this Bizarro Trump could do:  He could blame everything wrong in this country on conservatives.
That would be the "bizarro opposite" of 70 years of hard-line conservatives blaming liberals for everything bad in this country these past 70 years.  (And getting away with it…)  See e.g., Ann Coulter's books:  Every Liberal Cause Is Based on a Lie, All Assassins Are Liberals, Liberals are assaulting America.
But Bizarro Trump wouldn't break a sweat in response.  He'd simply say "No, every conservative cause is based on a lie, all assassins are conservatives, and conservatives are assaulting America!"
See how easy that is?  And conservatives have been doing this for 70 years….
That is, it all seemed to start back in 1947.  Democrats had been in power pretty much since the election of Franklin D. Roosevelt in 1933, and Republicans had been largely marginalized.  But then came the end of the war, and a strong desire by voters to simply "change horses."
So for 1947, Wikipedia noted the following transformative events:
On March 12 – "The Truman Doctrine is proclaimed to help stem the spread of Communism." On May 22 – "The Cold War begins:  In an effort to fight the spread of Communism, President Harry S. Truman signs an Act of Congress that implements the Truman Doctrine."  Later still – and most ominously – under the heading November 24:
McCarthyism:  The United States House of Representatives votes 346–17 to approve citations of Contempt of Congress against the "Hollywood Ten" after the screenwriters and directors refuse to co-operate with the House Un-American Activities Committee concerning allegations of communist influences in the movie business.  The ten men are blacklisted by the Hollywood movie studios on the following day.
That was followed by a note under "date unknown:"  The already-noted "House Un-American Activities Committee begins its investigations into communism in Hollywood."
In other words, you could say that 1947 was the year conservatives started blaming liberals for everything bad in this country.  And that trend would continue in the election of 1950.  (And beyond…)
That is, 1950 was when "Tricky Dick" Nixon accused his opponent in the California Senate race of being "pink right down to her underwear." This suggestion that his opponent "sympathized with the Soviet Union" referred to Helen Gahagan Douglas.
As Wikipedia noted, Nixon implied that Douglas was a Communist "fellow traveler."  The end result?  Nixon won the election with more than 59 percent of the vote, and Gahagan Douglas' political career came to an end.
Which seems especially ironic given the results of the 2016 presidential election.  (When hard-line conservatives seemed to say it was fine if the Russians affected election results, so long as their candidate won.  And a historical note:  Gahagan Douglas, "in return, popularized a nickname for Nixon which became one of the most enduring nicknames in American politics: "Tricky Dick.")
But we seem to be digressing…
The idea for this Bizarro Trump came when I remembered an old Seinfeld TV episode, The Bizarro Jerry.  The Seinfeld episode in turn referred to the earlier twin concepts of both the Bizarro Superman and the Bizarro World, as described in by DC Comics.
Bizarro is depicted as having all the abilities of Superman, although these traits are reversed, such as[:]  "freeze vision" instead of heat vision[;]  "flame breath" instead of freeze breath[; and] "vacuum breath" instead of super breath…
In the case of the real Donald, he campaigned as pretty much "the ultimate anti-Obama."  (Or perhaps the "BIzarro Obama…")  Which means the reverse-trait Bizarro Trump should be the very model of moderation, cooperation and compromise.  (See "Frankentrump" … Trump [As] Manifestation Of The GOP's Obstructionism And Extremism.)
But that probably isn't going to happen any time soon.
Which brings us back to the Bizarro Jerry episode prompting this post.  It showed Jerry, George and Kramer meeting their "weird" – to them – doppelgängers, Kevin, Gene and Feldman:
Kevin [is] Jerry's opposite since Kevin is reliable and kind, contrasted to Jerry's forgetfulness and indifference.  Gene is shown to be quiet, courteous, charitable and well-dressed as opposed to George being loud, obnoxious, cheap and slobbish.  Feldman acts generously to his friends…  He also always knocks on Kevin's door and waits for him to unlock it[, unlike] Kramer, who constantly takes Jerry's groceries and bursts through his door without warning.
Now about those doppelgängers.  They're kind of "bizarro opposites" as well.  For example, Edgar Allan Poe described such a "bizarro double" has having the "sinister, demonic qualities of a pursuer or challenger of the real self."  Dostoyevsky represented a doppelgänger as an "opposite personality who exploits the character failings of the protagonist to take over his life."  And in Alfred Hitchcock's The Case of Mr. Pelham, the title character "has a paranoid suspicion that he has a double who is slowly taking over his life."
All of which may sound vaguely familiar to anyone keeping up with politics these days.
In the end, it's hard to imagine what kind of "real Donald" will emerge over the next four years. (Or less.  See Professor predicts President Trump will be impeached.)  But who knows?  Some day soon we may be treated to a "bizarro" confrontation in politics like the one shown below…
*   *   *   *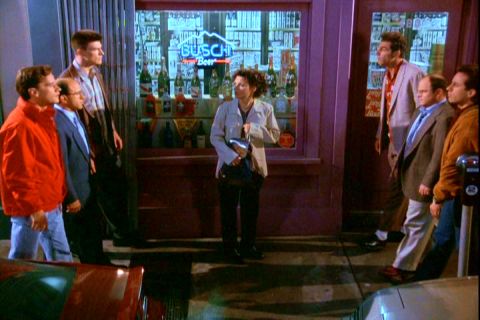 Kramer, George and Jerry – at right – meet their "bizarro opposites…"
*   *   *   *
Notes:
The upper image is courtesy of kotobukiya created a statue that the bizarro version of jerry seinfeld would totally get on board with … dailydead.com:  "Standing eight inches tall, this Bizarro anti-Superman statue is based on DC Comics' New 52 version of the popular villain and will be released in November [2016]."  (Which is actually kind of appropriate…)
"Note" also that an asterisk in the main text indicates a statement supported by a reference detailed further in this "notes" section.  Thus as to the "project [being] more complicated than I imagined," see the beginning of  the last post, "That which doesn't kill me…"
Also, as to Parlor games [spelled "p-a-r-l-o-u-r" in the article], Wikipedia defined the term as a "group game played indoors.  During the Victorian era in Great Britain and in the United States, these games were extremely popular among the upper and middle classes.  They were often played in a parlour, hence the name."
Re: Trump's promise to "kill Barack Obama's unilateral actions to shield…"  See Immigration hard-liners angered by Trump's softer tone "Dreamers."  
The "Tricky Dick and Pink Lady" image is courtesy of Tricky Dick and the Pink Lady: Richard Nixon vs. Helen Gahagan Douglas …barnesandnoble.com.
Re:  The "old Seinfeld episode, Bizarro Jerry."  It was the 137th episode, and the third episode for the eighth season.  Originally aired on October 3, 1996, the "title and plot extensively reference the Bizarro (the polar opposite of Superman) and Bizarro-Earth concepts that originally appeared in various comic books published by DC Comics."
The lower image is courtesy of Bizarro Jerry – WikiSein, the Seinfeld Encyclopediaseinfeld.wikia.com.