The Wayah Bald Tower, a highlight from my recent trek on the Appalachian Trail…
I've now officially hung it up for the winter.  "Which is being interpreted:"
"No more outdoor adventures … at least not 'til next spring."  Which means the two adventures I had this (late) fall pretty does it for this year.
To explain:  Last October I fulfilled a life-long dream.  A two-day overnight kayak into the Okefenokee.  (As told in Operation Pogo.)
Then last November – 20 and 21 – I fulfilled another life-long dream: At least one overnight trek on the Appalachian Trail.
I touched on this dream in "A Walk in the Woods."  (Parts I and II.)
Back in 1967 – when I was 16 – my next-older brother and I hatched the idea of hiking the Trail from Springer Mountain to Gettysburg, where our aunt and uncle lived.  (Some 623 miles…)  But for some reason my parents didn't bust out laughing [or] slap their knees while wiping away tears of laughter…
Needless to say we didn't make it.  Ever since then it's bugged me that we didn't make it.  And that's why hiking the A.T. has been on my bucket list.  (Long before the term was coined.)
Among the highlights:  The temp dropped to 31 degrees that Friday night. (11/20.)  Another thing:  Hiking in the late fall – when the leaves have fallen – means the Trail is really slippery.
A related note:  Even now – three weeks later – my left big toenail is still purple-bruised.  (From the Saturday-afternoon slip-and-slide down toward Tellico Gap.)
I'll get to the details later, but first a word about those "balds."  There's a lot of 'em on the A.T., but they're not meant as an insult to the "follicly challenged."
The term Bald in the Appalachians means a summit or crest, covered mostly by thick vegetation; "native grasses or shrubs occurring in areas where heavy forest growth would be expected."
Thus the towers at Wayah Bald and Wesser Bald.  (Of which more below.)  Then of course there's Roan Mountain, seen from Grassy Ridge Bald, at right.
Getting back to the hike itself:  I originally planned to go from Winding Stair Gap to the Nantahala Outdoor Center, near Bryson City.
That's a hike of about 27 miles.
Fortunately, I found an old high-school friend who lives in Franklin, North Carolina. (Right on the Trail.)  So in September I arranged to drive up to his place on Thursday afternoon, the 24th. From there he agreed to drop me off Friday morning, the 25th.  (And hopefully pick me up on Saturday afternoon, the 26th.)
Under that original plan I might have made 27 miles.  (If I'd been able to hike before the time change.  See Spring Forward – Fall Back.)  Unfortunately, that September try got rained out. Which meant by late November, I had an hour or two less hiking time per day.
Be that as it may…  I made new arrangements.  (Before the weather got too cold.)  My friend dropped me off at 8:35, Friday morning, November 20.  (At the parking lot at Winding Stair Gap, where the Trail crosses U.S. 64, known locally as Murphy Road.)
And now a word about hiking speed.  A good ambling-speed on level ground is a mile every 20 minutes.  (Three miles an hour.)  But a friend at church hikes the Trail regularly, and she says on a good day she and her husband can cover eight miles.  Other sources indicate a good speed – with full pack and up and down mountain trails – is about two miles an hour.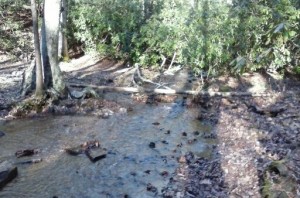 That's what threw me off.  Like my paddling in the Okefenokee, I overestimated my ability to trek. (With less daylight, and slipping and sliding on fallen leaves.  Not to mention the recent rains that put much of the Trail under water, as seen at left…)
So anyway, that Friday afternoon I reached Wayah Bald about 4:40.  See also Wayah Bald Tower.
My slightly used handbook – published in 1994 – said there was a camping area a mile and a half further on.  But the sun was setting, it was getting cold and the ground was flat and grassy there.  So I pitched my tent.  (Expecting a ranger to come by and say "You can't camp there!") 
But then three young folk came by.  (A young man and two young ladies, all college age.)  We'd been passing each other all afternoon, and after stopping for a bit, they started to head off to the farther-up camping place.  But then they came back and camped on the other side of the tower.  (Which was some comfort.  You never know about those "Dueling banjos…")
So anyway, I pitched my "Eureka" one-person tent just to the left of where the stone wall at the bottom of the picture turns down.  (As seen in the photo below right.)
I'd packed five layers of sweaters and down vests, plus Gore-tex gloves.  (Not to mention a small mouthwash bottle filled with rum.)  And like I said, that night it got down to 31 degrees or so.
I shivered some during the night, and could have used some extra padding for my side hip-bones.  Still, I got a fairly good night's sleep.  (And there was a nice view of the lights of Franklin, shimmering in the distance, when I got up to answer nature's call.)
Next morning it took a while to pack up.  It was so cold I had to keep warming my fingers to untie things, then tie them in or to the pack, etc.  But I eventually hit the trail at 8:21.
Like I said, my original plan was to reach the "NOC," some 27 miles away.  But as I hiked along Saturday afternoon, I formulated a secondary objective: The Wesser Bald Lookout Tower.
But finally – as the sun got lower and lower on Saturday afternoon – I found a rare place with cell-phone reception.  (And they are pretty rare.)  I called my buddy and negotiated a pick-up at Tellico Gap.  (See Wayah Bald to Tellico Gap.)
Over the phone I read the directions – from the 1994 guidebook – to my friend.  They told of an 8-mile drive (for him), west from Highway 28.  Then a 4-mile gravel road up to Tellico Gap.
By some miracle he actually found the place, on the Trail, and with a place to park.  And he got there about 10 minutes before I did.  (Slipping and sliding downhill.)
Boy was I glad to finally sit down in his pickup truck!  
One lesson I learned was that hiking in the Trail in late fall means most of the leaves have fallen. That means much of the Trail is  covered by leaves.  The leaves in turn cover up many if not most of the rocks and tree roots that can trip you up.  (As shown below left.)
Then there'd been the recent rains, making parts of the trail more like streams than trail, as noted above.
Aside from all that, I deliberately chose to go slow, knowing one wrong move could mean a twisted knee or ankle.  (Which speaks to the wisdom of not traveling alone.)  And finally, my main objective was to see how fast I could travel comfortably.
As I alluded in "Okefenokee – Part II:"  Not only did my Utah brother propose a 16-day, 500-mile, "primitive-camping canoe trip down the Yukon River."  Also for the Summer of 2016, he's proposed a four-day hike along the Chilkoot Trail.  (In Alaska.)  So this overnight A.T. hike served as a kind of "shakedown cruise."
Which leads to the specifics:  It was 5.9 miles from Winding Stair Gap to Wayah Gap.  (Before Wayah Bald.)  It was another 13.5 miles from Wayah Gap to Tellico Gap.  That made a grand total of 19.4 miles.  I covered that 19.4 miles in some 11 hours, 29 minutes of actual hiking.
That averaged out to 9.7 miles a day.  (Or 1.68 miles per hour, over rough ground.  It was actually 1.689895 miles per hour, but who's counting?)  Still, despite my doing better than the eight-mile-a-day average noted above, it was a learning experience…
And a pretty humbling one at that.  But I'm glad I did it.  For one thing, that first beer and that nice soft bed Saturday night felt really, really good!
And incidentally, the word "trek" – as used in the headline and text – comes from Trekboer.  (A term later shortened to just "Boer."  See also "kommando," from Afrikaans as well.)
The point being:  The image below gives an accurate feel for some of the conditions on the A.T. – in late fall, this past November 2015.  (Though without the oxen, whips and wagons.)
The original Trekboers, "Passing Cradock Pass…"
Re: The Appalachian "balds."  See Bald Mountains – Wikipedia, the free encyclopedia:
The Bald Mountains are a mountain range [bordering] Tennessee and North Carolina in the southeastern United States.  They are part of the Blue Ridge Mountain Province of the Southern Appalachian Mountains.  The range gets its name from the relatively frequent occurrence of grassy balds atop the more prominent summits.
See also Appalachian balds – Wikipedia.
Re: Hiking the whole Trail.  At 64, I realize I'll probably never do that.  (Or want to, for that matter.) But my bucket list does include hiking at least one portion of the Trail in every state that it passes through.  (So far I've done Georgia and North Carolina.)
Re: "Dueling banjos."  As the link noted, "If you ever see the film [Deliverance,]  you will never be able to enjoy banjos again.  Or go canoeing.  Or visit rural Georgia.  Or, you know, sleep."  And I must admit to a certain trepidation even kayaking in the remote Okefenokee. Still, there is a certain dark humor in the trope illustrated at right…
The lower image is courtesy of the Boer link in the article, Trekboer – Wikipedia. The caption:  "Passing Cradock Pass, Outeniqua Mountains, by Charles Collier Michell."  Note that "Boer is a Dutch and Afrikaans word for 'farmer.'"
Re: "Kommando."  Another word of Dutch/Afrikaans origin, later spelling-changed to Commando: "The word stems from the Afrikaans word kommando, which translates roughly to 'mobile infantry regiment.'  This term originally referred to mounted infantry regiments, who fought against the British Army in the first and second Boer Wars."