"If you're from the art show," you'll probably want to find out if Ashley Wilkes was really a British spy, working with the likes of Conchita Montenegro? (She's the one at left…) 
*   *  *
Welcome to the "Georgia Wasp…"
If you're from the art show, you'll probably want to check out The mysterious death of Ashley Wilkes.
There's more on that post below, but first note that I modeled this blog on the Carolina Israelite.
That was a personal newspaper, done up by Harry Golden back in the 1940s and '50s.  Harry was a "cigar-smoking, bourbon-loving raconteur."  (That's another way of saying he told good stories.)
Which means if Harry was around today, "the Carolina Israelite would be done as a blog."
For more on the blog-name connection, see "Wasp" and/or The blog.  But what made Harry special was his positive outlook on life.  He got older but didn't turn sour, as so many seem to do these days.  He still got a kick out of life.
For that and more, he was considered a "voice of sanity amid the braying of jackals…"
Which is now my goal as well.
In the meantime:
Like I said, "if you're here from the art show," you'll probably want to check out The mysterious death of Ashley Wilkes.  Which is being interpreted:
I just published a collection of posts from this blog.  The title comes from the [post] I did on September 1, The mysterious death of Ashley Wilkes … but first an explanation.  I'm an artist as well as a blogger, and there's a big art show coming up in December.  But aside from showing off my works of art – mostly oil paintings – the show also presents a chance for me to get the word out on my two blogs, including this one.
See Introduction to "Ashley Wilkes."  That's another way of saying December 5 has come and gone.  (Or will have come and gone by the time most readers see this.)  That means my church's December 5 Combination Art Show and Christmas Bazaar has come and gone as well.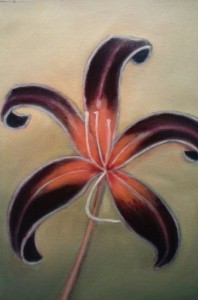 This annual "Christmasy" event gave me a chance strut my stuff.  (In more than one sense of the word.)  Not only did it let me show some progress in my oil paintings – like the one at right – it also gave me the chance to "let the public know" about my blogs.
But getting back to Leslie Howard.  He played Ashley Wilkes in 1939's Gone with the Wind.  Less than four years later his commercial airliner got shot down by eight Luftwaffe Junkers Ju 88C6 fighters.
Under suspicious circumstances.  And 500 miles west of Bordeaux, over the Bay of Biscay, on a flight over supposedly-neutral waters from Lisbon to London.
Some said it was an accident of war.  Others said it was deliberate.  That German spies in Lisbon mistook Howard's companion for Winston Churchill.  Or that Nazi propaganda chief Joseph Goebbels personally ordered the shoot-down.  (He called Howard "Britain's most dangerous propagandist.")  Yet another theory was that Howard was a British spy.
I wrote over 3,000 words on the mysterious death, many of them in footnotes and/or end-notes.  So for the full set of answers your best bet is to check the post yourself.
But note also that that post is just one of the "collection of posts from this blog."
Others include "Johnny YUMA was a rebel," and "When adultery was proof of loyalty."  The first was about Nick Adams – who played Johhny Yuma – and how he too died mysteriously.  (At age 36, a mere seven years after the show ended.)  The other one led off with a painting of "Nell Gwynn, 'the Protestant Whore,' a favorite mistress of Charles II…"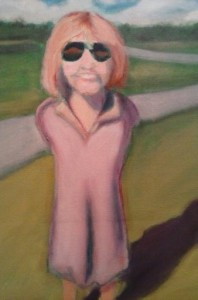 So anyway, the main text of mysterious death ended with this:  "And some people think those were better and simpler times…"
That was pretty much the theme of Alice's Restaurant – Revisited.  (That people "who 'wax poetic' on the Good Old Days usually forget what it was like actually living then.")  But that post too ended on a positive note, "in the spirit of Harry Golden."
The positive note was that: "Maybe these days today aren't so bad after all…" 
So in that spirit of "accentuating the positive," I'll close this post by noting the oil painting above left, showing my "favorite grand-niece."  (Or one of them anyway.)
And of course Ashley Wilkes, as shown below:
("Ashley Wilkes," anti-Nazi agitator?)
The upper image is courtesy of www.flickriver.com/photos.  Wikipedia added this:
Following a rare interview with [Conchita] Montenegro shortly before her death, Spanish author José Rey-Ximena claims that British actor Leslie Howard used her to get close to Spanish dictator Franco after being given the special mission by Winston Churchill.  She claimed that she used her husband's influence to secure [the meeting with Franco]. "Thanks to him … Spain was persuaded to stay out of the war."  (E.A.)
Re: "two blogs."  My other blog is DOR Scribe – Expand your horizons – Read the Bible with an open mind.  Among other things, that blog explores the "mystical side of Bible reading."
Re: positive outlook on life and/or "accentuating the positive."  Referring to "Ac-Cent-Tchu-Ate the Positive," the 1944 song written by Harold Arlen with lyrics by Johnny Mercer.
See also curveball, defined in part as a "particularly difficult issue, obstacle, or problem."  The point being that life seems to have a habit of "throwing us curveballs."  See also the alternate definition of dinosaur, as "someone who resists change or is old-fashioned."
Re: "favorite great-niece."  As with my seven grandchildren, the usual phrase in such circumstances would be "my favorite grandson named Joe," to fully cover my bases and avoid showing partiality. Most of those grandchildren heard only the "favorite" part, and didn't catch on to the "Joe" part until their teens.  (And keeping in mind of course that the "names were changed to protect the innocent.") Accordingly, the "other favorite great-niece" shouldn't take offense… 
The lower image is courtesy of sites including but not limited to cornel1801.com/1/g/GONE_WITH_THE_WIND/4_online_pictures.