An "alligator mississippiensis," prevalent in the Okefenokee Swamp – where I kayaked – twice…
*   *   *   *
This May I'll be making a two-week pilgrimage to Jerusalem.  (As part of a local church group.)  Which makes this a great time to remember some past pilgrimages.  Like my two separate overnight-camping ventures into the Okefenokee Swamp.  (Shown at left.)
I wrote of those Okefenokee trips in several posts:  Operation Pogo – "Into the Okefenokee" (11/7/15), "Into the Okefenokee" – Part II (11/15/15), "Into the Okefenokee" – Part III (11/24/15), "There he goes again…" (5/30/16), and "There he goes again" – Revisited (5/31/17).
The original Operation Pogo noted that my fascination with the Okefenokee started – at age 10 or so, back in the 1960s – when I saw the movie Swamp Water, starring Walter Brennan:
The part I remember best was watching Walter Brennan getting bitten in the face by a snake.  In the scene, he kneels over and parts the bulrushes to get a drink. (Of  "swamp water," while hiding from John Law in the Okefenokee.)  As Walter [kneels], the viewer can see a grinning cottonmouth off to his right.  (The viewer's left.)  The grinning cottonmouth then proceeds to bite him "right on the cheek."  I've been fascinated ever since…
Part of that fascination also came from the old Pogo comic strip.  (It ran from 1949 to 1975.)  It starred Pogo Possum, was set in the Okefenokee, and featured "social and political satire through the adventures of its anthropomorphic funny animal characters:"
Pogo is set in the Georgia section of the Okefenokee Swamp;  Fort Mudge and Waycross are occasionally mentioned.  The characters live, for the most part, in hollow trees amidst lushly rendered backdrops of North American wetlands, bayous, lagoons and backwoods.
Also, note that my original "Pogo" post was very long.  It clocked in at over 1,600 words in the main text, and over 2,000 words including the notes.  Since then I've cut down on blog-post wordage, mostly because the average reader has the attention span of a gerbil.  (You could Google "ideal number of words for a blog post."  One site – Forbes – said that for one thing, "most people only read between 20% to 28% of a post" anyway…)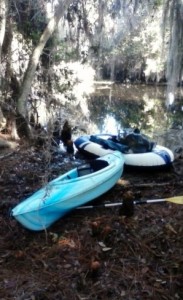 "Revisited" noted my second fun trip into the Okefenokee, from the west entrance into the Okefenokee east of Fargo, Georgia.  (In the "tagalong" combo at right;  a kayak with a rubber dinghy trailing behind.)  "Among other things I saw some fifty alligators during the first hour of paddling."  After that I stopped counting…
I camped at the CANAL RUN shelter, "some nine miles in from the Foster State Park launch site."  And … because it was so early in the season the canoe-only trails were much vegetated-over.  Which meant that many times I had to "butt-scootch" my kayak over a barely-sunken log, and sometimes had to stick my hand out, grab another log and finish pulling the kayak [over].  The last time I reached my left hand out I saw a patch of white.  It turned out to be yet another gator … "smiling" nicely at what he no doubt thought was a tasty new snack.
In case I'm being too subtle, that "tasty new snack" would have been my left hand.
And speaking of "pilgrimages" – and why I do things like camp overnight in the Okefenokee (twice) and fly to places like Jerusalem:  I addressed that topic in my companion blog.  See for example, On St. James, Steinbeck, and sluts.  (The "sluts" came from Robert Louis Stevenson.)
That post noted that on a true pilgrimage – usually by and through such things as "the raw experience of hunger, cold, lack of sleep" – we can quite often "find a sense of our fragility as mere human beings."  (And to that might be added, mosquitoes, snakes and great numbers of alligators.)  The post added that a true pilgrimage can be "one of the most chastening, but also one of the most liberating" of personal experiences.
I certainly felt "chastened" at almost having my left hand chomped by a "smiling" gator.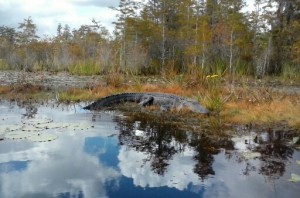 And speaking of being chastened:  "One thing I learned is that – in the Okefenokee – there are precious few places to stop and take a break…  The shelters – for day use or overnight – are few and far between.  As a result, the ol' keister got extremely sore by the end of the second day.  (Not to mention blisters on my palms…)"  That is, in this swamp there are few "shores" to speak of.  Just a "line of reeds that an alligator can mash down."  And where a wandering kayaker – for example – steps off at his own peril, as shown above left.
Also, one time I was paddling through a very narrow canal when I saw a big bull gator – who eventually submerged. This was on the canoe trail to Monkey Lake.  As I paddled over the water where the gator had been, I could swear he came up and nudged the bottom of my kayak.  I figured it was an accident, at least the first time.  (But the second time?)
That added some spice to the trip.
Then there was the time I miscalculated my canoe-speed, and ended up paddling – late in the dark of night – through what seemed like miles of water lilies.  (Well after 8:00 p.m., as noted in Okefenokee … Part III.)  Which led me to think, as I paddled through the swamp in the dark:  "That Monet guy can take his stinkin' water lilies and 'stick 'em where the sun don't shine.'"
That is, the canoe only trail to the Cedar Hammock Shelter is – or was – loaded with water lilies…
I discovered a nasty thing about water lilies.  They're hard enough to paddle through during the day, when you can see what you're doing…  [But] in a kayak – in the dark and in a hurry – your paddle tends to grab great wads of swamp weed.  Then the paddle tosses the soggy lily-entrails – wet and cold – all about your head and shoulders.
But such are the things that make for a great pilgrimage!  (At least in hindsight…)
*   *   *   *
Poster for the 1941 film, Swamp Water.
*   *   *   *
The upper image is courtesy of Alligator – Wikipedia.  The caption:  "American alligator (A. mississippiensis)."  For more on the upcoming two-week pilgrimage, see "On to Jerusalem!"!"
Re:  "Pogo," running from 1949 to 1975.  Cartoonist Walt Kelly (1913–1973) fell ill in 1972, and was unable to continue the strip.  The strip continued for a short time with reprints, and cartoons from other artists.  But Kelly's widow ultimately decided to discontinue the strip "because newspapers had shrunk the size of strips to the point where people could not easily read it."  Also, one of the reasons I liked the strip was because – in hindsight – it seems rather prescient, as seen at left.
I took the photograph of the alligator basking on the "line of reeds."  (From a safe distance.)
The lower image is courtesy of Swamp Water – Wikipedia.  That article noted the 1941 Jean Renoir film "starring Walter Brennan and Walter Huston, produced at 20th Century Fox, and based on the novel by Vereen Bell.  The film was shot on location at Okefenokee Swamp, Waycross, Georgia, USA.  This was Renoir's first American film.  The movie was remade in 1952 as Lure of the Wilderness, directed by Jean Negulesco."