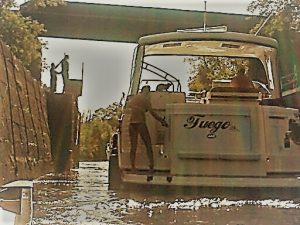 I saw no naked lady on the Rideau…
*   *   *   *
Editor's note: I had to go back on August 3, 2020, to redo this post. As often happens, some photos – and especially my photos – from an old post get transformed into a box that says things like "image may contain: outdoor." Or in my photo at the bottom of the page, "image may contain: one or more people, outdoor and nature." I was able to fix that fairly easily, but for the photo above I had to settle for this tiny photo from the "add media" link in the dashboard.
So what follows is the original post from September 10, 2018, with two differences in my photos at the top and bottom of the main text. And by the way, the full caption to the photo above: "I saw no naked lady on the Rideau, but there was this fetching blonde at Smiths Falls Locks…"
*   *   *   *
Last Saturday evening – September 1st – I got back home from my "Rideau Adventure."  (Which included passing through the Poonamalie lock station – at left and discussed further below.)  That adventure involved canoeing the Rideau Canal, from Kingston – on Lake Ontario – to Ottawa.
I previewed it in Next adventure: Paddling the Rideau "Canal."  Also – from July 31 – "Naked Lady" – on the Rideau Canal?
In a nutshell, I didn't see a naked lady on the banks of the Rideau.  I did see a fetching blonde in a power boat, explained in the notes below.  And incidentally, "Poonamalie" is the station just before the Smiths Falls three locks.  (We followed "Yvette's" Fuego on the first two of three locks…)   
And now for the overview:  The guide books say it should take from six to ten days to make the trip.  They also say the prevailing winds are "generally" from the southwest, but to be "ready for anything."  We ended up taking 11-and-a-half days – and 11 nights – but two of those nights we spent in relative luxury in a rustic cabin in Portland, Ontario.  (Nine days "actual canoeing.*")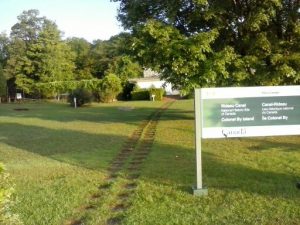 That was after taking a wrong turn padding north from Colonel By Island on the morning of Wednesday, August 22.  That overnight campsite included a violent rainstorm and raccoons breaking into our plastic food containers and taking our supplies of breakfast bars, crackers and trail mix.  That in turn was preceded by us paddling through a veritable monsoon, on the afternoon of Tuesday, August 21.  That morning we made 10 miles, but in the afternoon – after leaving the Narrows (Lock 35) – we made four miles before stopping at " Colonel By."
But such is "the stuff of legends."  And we digress…
Getting back to those prevailing winds.  For the first few days the prevailing winds were from the north, in our faces.  Plus we had to delay our start – by one day – because The Weather Channel predicted heavy thunderstorms on the afternoon of Friday, August 17.  That forecast wasn't accurate, but the one for the afternoon of Tuesday, August 21, was accurate.
We got the predicted heavy rain.
Which is another way of saying the trip featured highlights and lowlights.  "Yvette" was a definite highlight.  The heavy rains of August 21-22 were lowlights, as was taking a wrong turn after leaving Colonel By Island.  But that was followed by deciding to take two nights off – resting and refitting – in beautiful Portland, Ontario – a definite highlight – on August 23 and 24.
"Thereupon," on leaving Portland our main goal was to get off "all those big-ass lakes."  With their unpredictable winds and a constant threat of being swamped by inconsiderate big-boat drivers.  Speaking of that, on the afternoon of August 24, we were in the process of getting off Lower Rideau Lake.  (The last of the "big-ass lakes" in the Rideau system, which is actually further north than Upper Rideau Lake.  Big Rideau Lake – with Cow Island – lies in between.)  
We were heading for the Poonamalie lock station, and my brother was sitting in his canoe, minding his own business and checking our bearings on his big book of charts.  Some jerk in a big-ass boat came zooming out from the river to the north – where we were headed – making a huge wave and yelling out, "GET OFF THE F'ING CHANNEL!"  Which just goes to show that life is like a box of chocolates:  "You never know what you're gonna get."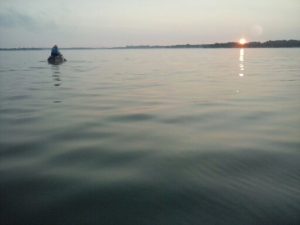 Also speaking of that:  To avoid the often-contrary prevailing winds, we started getting up at 4:00 a.m.  Which leads to the picture at left, of one of the benefits of getting up at 4:00 a.m. and stumbling around in the dark while breaking camp.  Aside from the water being much smoother – which was especially important on those "big-ass lakes" during the first half of the trip – you also get to see some beautiful sunrises.  (As seen at left.)
So all in all we spent 11-and-a-half days on the trip, but that included two nights in a nice cabin in Portland Ontario.  And aside from primitive camping the first two nights – "dig a hole and squat" – most of the rest of the nights we camped at the lock stations themselves.  They featured nice level lawns, hot and cold running water in the nearby "washrooms," and every once in a while a nearby pub or restaurant with hot food and cold beer.
Which led to my conclusion that this Rideau trip was "more of a Camino than the Camino."  That is, last September and October – on Spain's 450 miles of the Camino de Santiago* – my brother and I kept meeting up with flocks of fellow pilgrims, all or most greeting us with "Buen Camino."  In other words, the Rideau trip was more of a pilgrimage, in the truest sense.  That is, a "journey or search of moral or spiritual significance."  Or consider the words of John Steinbeck in Travels with Charley.  Speaking of long-distance driving – at least in 1962 – he wrote:
If one has driven a car over many years [one] does not have to think about what to do.  Nearly all the driving technique is deeply buried in the machine-like unconscious.  This being so, a large area of the conscious mind is left free for thinking…  [T]here is left, particularly on very long trips, a large area for day-dreaming or even, God help us, for thought.
Unfortunately, there was precious little of that on the Camino.  (Or for that matter, on any modern long-distance driving trip, what with Sirius, GPS, iPod Shuffles or the new "Sandisks," not to mention "books on CD," none of which were available in 1962.)  On the other hand, there was plenty of time – paddling up the Rideau river system – for "God help us, thought."
In my case, on the Rideau I spent plenty of time – along with Steinbeck – thinking about the past:  "And how about the areas of regrets?  If only I had done so-and-so, or had not said such-and-such – my God, the damn thing might not have happened."
Which is another way of saying there weren't that many other canoeists or kayakers on the Rideau.  In fact I can only remember one, the lady kayaker shown below, portaging – carrying her kayak – at the Burritts Rapids lock station.  Whereas my brother and I paid extra to take our canoes through the locks, this younger lady chose to do it the "other way."  She'd carry her kayak on one trip – from one end of the lock station to the other – then go back and get all her gear, stacked what seemed to a mile high on her backpack.
The point being – in case I'm being too subtle – that the dearth of fellow paddlers meant there was plenty of time "for day-dreaming or even, God help us, for thought."
Which seems to be what makes a pilgrimage a pilgrimage.  (Though it helped to find the Lock 17 Bistro, a short walk from Burritts Rapids, where we camped the night of Sunday, August 26.)
*   *   *   *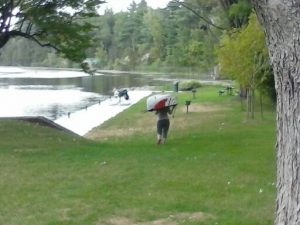 A lady kayaker at Burritts Rapids…
*   *   *   *
The upper image:  My photo from our passage through the first two of three locks at Smiths Falls, Ontario.  I wrote that we got to the lock at 8:30 and they didn't open til 9:00 a.m., so my brother walked to a close-by convenience store and got some REAL coffee and a chocolate-chip cookie.  Then the lady in question – I'd like to think her name was Yvette – "and her old-guy SO" – whatever that meant – "went off into the Rideau."  I also journaled: "The point being:  This trip has been mainly pleasant.  Early stops, lots of breaks, a two-night stay in Portland…"  (Portland Ontario that is.)
Re:  My not seeing "a naked lady strolling the banks of the Rideau Canal."  The reference goes back to the August 2016 post, "Naked lady on the Yukon."  (Where the "mighty Yukon River" was the last place on earth I expected to see a lady sun bathing, "In the altogether" as it were.) 
Re:  Portland, Ontario:  "The Landing on Big Rideau Lake, which is now the community of Portland, lies at the heart of the Rideau Canal System and is central to the history of the canal and to the early development of Canada.  Portland is on Highway 15, midway between Ottawa and Kingston, Ontario."  See also Portland, Ontario – Wikipedia.
Re:  Distances on the canal system.  Using the figures from Rideau Canal – Distances between Lockstations, it is 125.6 miles from the Lasalle Causeway in Kingston to Ottawa proper and the last several lock stations leading to the Ottawa River.  But we stopped at Hartwells lock station, 4.9 miles short of the Ottawa River, for reasons including there was no apparent take-out available, at which my brother could park his car and trailer, and we could unload the canoes.  Moreover, we put in at the small but better-suited "Elliott Avenue Parkett" – at the water's end of John Counter Boulevard – some two miles north of the Lasalle Causeway.  Thus we arguably covered some 118.7 miles on the trip.  On that note, in an email post-mortem dated September 4, my brother noted this:   
…to set the record straight, the entire Rideau is 125 nm (nautical miles), of which we did 120 nm.  That works out to 138 statute miles.  And, we started Saturday, August 18]. around 11 am and finished at about the same time on Wed[nesday, August 29]., 11 days total, two of which were, going backwards to Portland and a day spent in Portland.  So 9 days total actually canoeing. 
Re:  "Our' 450 miles of the Camino de Santiago."  For more on that pilgrimage see "Hola! Buen Camino!" – Revisited and/or "Buen Camino!" – The Good Parts.
Another note:  For the next canoe trip I'm getting a bigger tent and a cot.  (No more sleeping on the ground for me.)  But that trip won't happen until at least 2020, as next summer my brother, his wife and I plan to hike the Portuguese Camino.  That hike will involve a "mere" 150 miles, from Porto to Santiago de Compostela.  This route is said to be a "fantastic route for pilgrims looking for a more rural experience on the Camino de Santiago."
The quotes from Travels with Charley are from the 1962 Penguin Books edition, at pages 94-95.
The lower image:  My photo of a lady kayaker, portaging – carrying her kayak – at the Burritt's Rapids lock station. My brother and I paid extra to take our canoes through the locks – resulting in the previous picture of "Yvette," bending and stretching, but this lady chose to do it the "other way…"  ("Oh  to be young again!"  Or not, once was enough…)
*   *   *   *
Also of note:  In Geezer's guide to supplements – Part II, I wrote of supplements for "men my age," that is, 67.  One of the recommended supplements was Selenium:  "No other single nutrient appears to prevent cancer more effectively…  It basically forces cancer cells to self-destruct."  The good news was that "Nature's selenium supplement is the Brazil Nut, which measures 100 mcg per nut.   So you get your daily dose by eating two Brazil nuts."  But that presented a problem in accounting:
I bought a 9.5 ounce container at the local Fresh Market for $12.95 on July 15.  I'll update this post when they're gone – at the rate of two or three a day – but … it'll be awhile.
For the record, I had my last two Brazil nuts from that batch on September 7, 2018, less than a week after I got back from the aforementioned Rideau Adventure.  I took the supplement from July 15 to August 17, for a total of 63 days.  I didn't take the supplement while on the Rideau, from the 18th to August 30, when I left for home.  I then took it from August 31 to September 7, eight more days, or 71 total.  Thus the cost of this supplement rounds up to about 19 cents a day.