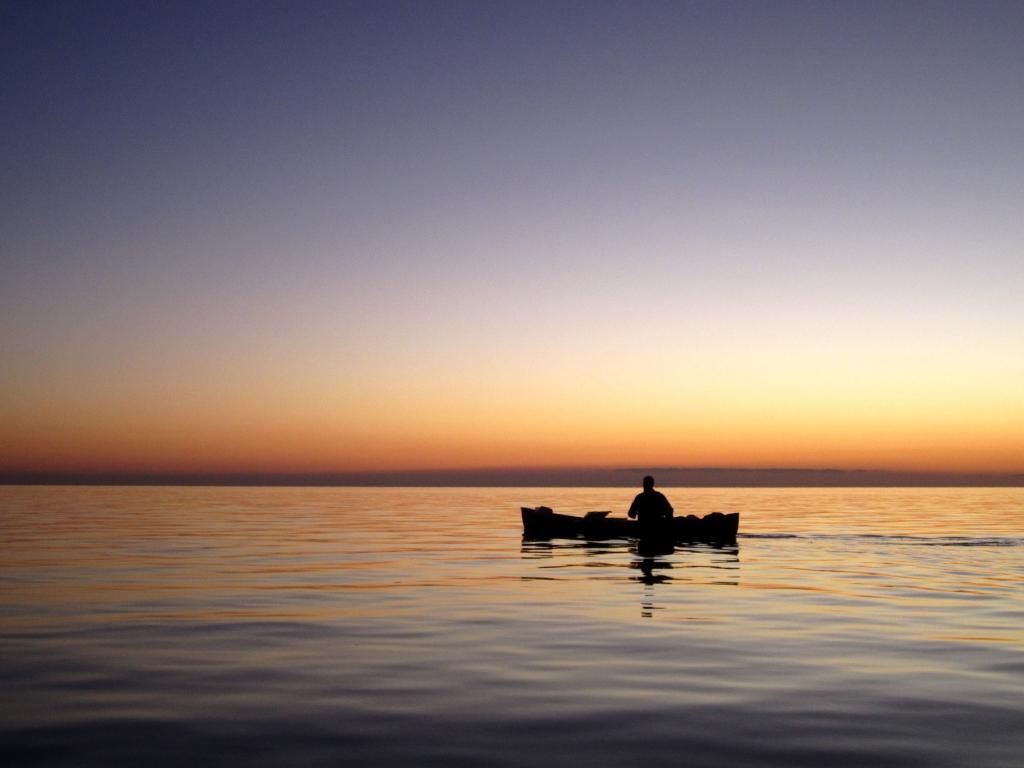 A mere 10 miles out in the Gulf, off the coast of Mississippi  –  Dawn, November 10, 2014…
*   *   *   *
In September I'm flying to Madrid, Spain.  From there I'll take the train to Pamplona, to meet up with my adventurous brother, Tom.  From that point we'll both be hiking the Camino de Santiago.  (At left.)  We plan to hike 450 miles in 30 days.
Which brings up the 8-day canoe trip that we two took back in November 2014, "12 miles offshore."  (I.e., 12  miles off the coast of Mississippi.)  We started out on Lake Pontchartrain, then paddled through the Rigolets, then out into the Gulf of Mexico.
12 miles out into the Gulf of Mexico.
We paddled a whole lot during the day.  In one stretch we paddled 17 miles in 11 hours.  Then at night we "primitive camped."  We primitive camped on places like Half Moon Island and East Ship Island.  (And from time to time we camped on an occasional salt marsh.)
Which naturally brings up the question, Why?   Why would two old geezers – 63 and 69, respectively and at the time – paddle so far out into the realm of sharks and drowning?
I still don't know the full answer, except to say that such adventures are a whole lot of fun once they're over.  But part of the appeal got spelled out by both John Steinbeck – in Travels with Charley – and Robert Louis Stevenson.  (His Travels with a Donkey in the Cévennes is at right.)
The sum and substance of it is that there's something rewarding to doing the unexpected.  There's something rewarding in paddling 12 miles offshore, at the mercy of the elements, with day's end promising "naught but a lukewarm meal on a soggy beach," or a more soggy salt marsh:
But as it turns out, that's the nature of pilgrimages.   They give us a break from "real life," from the rat race that consumes so many lives today…  [T]hrough the raw experience of hunger, cold and lack of sleep, "we can quite often find a sense of our fragility as mere human beings, especially when compared with 'the majesty and permanence of God.'"   In short, such a pilgrimage can be "'one of the most chastening, but also one of the most liberating' of personal experiences."
As Wikipedia noted, such journeys – pilgrimages – can be to a "shrine or other location of importance to a person's beliefs," or some other search "of moral or spiritual significance."  (Wikipedia also noted that one "popular pilgrimage journey is along the Way of St. James to the Santiago de Compostela Cathedral, in Galicia, Spain," but that's a subject for future posts.)  
But perhaps the best answer – at least for people of a certain age – is simply to show that we can still do it.  Or as John Steinbeck said in Travels with Charley, too many men – as they get older – "hood their passions, and gradually retire from their manhood."  But that wasn't his way:
I did not want to surrender fierceness for a small gain in yardage…  If this projected journey should prove too much then it was time to go anyway.  I see too many men delay their exits with a sickly, slow reluctance to leave the stage.  It's bad theater as well as bad living.
Or to put it simply:  I want to have these adventures before I get too old and decrepity.
*   *   *   *
And incidentally, the photo below is another one I took near dawn on November 10, 2014. (That's the day we did 17 miles in 11 hours, which amounted to some six hours of actual canoeing.)  Also, given the age of the "intrepid canoeists" it behooved us to learn – through "OJT" – the technique of "siesta at sea."  Note the calm water that is a necessity for such a siesta when you're 10 or 12 miles out in the Gulf.  In other words, it pays to pace yourself…
In further words, we'll likely be taking plenty of siestas on the Camino de Santiago.
*   *   *   *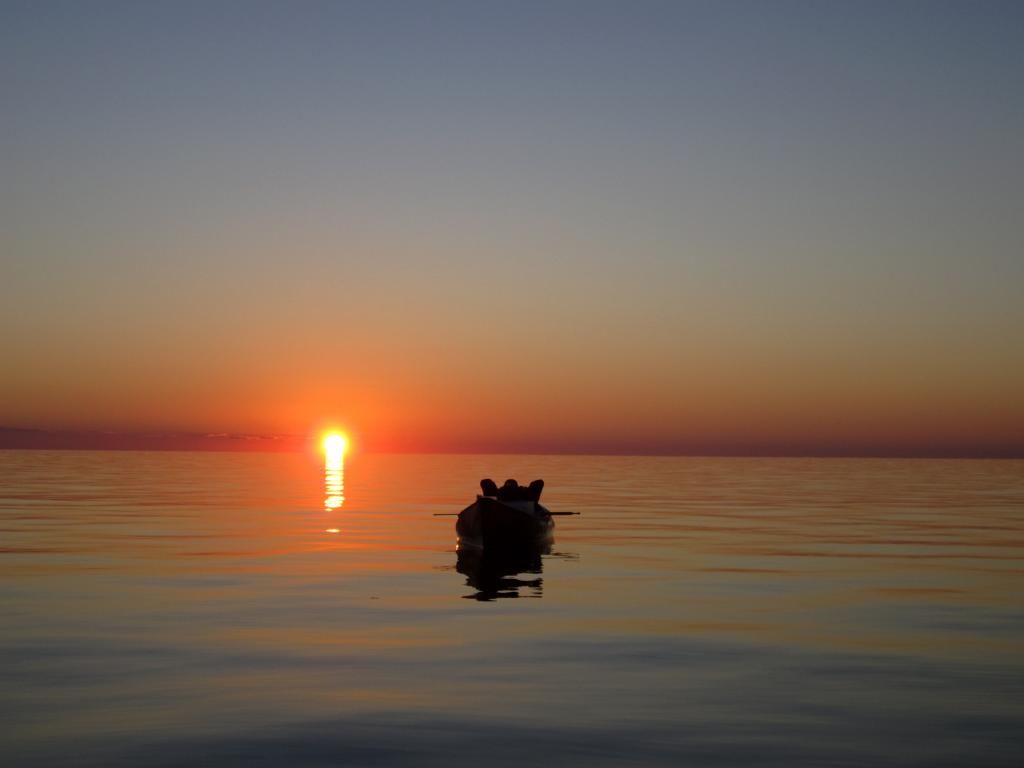 *   *   *   *
The upper image is a photo I took near dawn on the morning of November 10, 2014.  (And incidentally, those are clouds on the horizon, not land.)  That day we got up and broke camp at 3:00 a.m.  We hit the water at 5:00 a.m. and paddled 17 miles in 11 hours, not counting an hour break on Cat Island, before proceeding to West Ship Island.  
For a longer version of this tale, see On canoeing 12 miles offshore, from May 2015.
The "pilgrim" image – to the left of the first paragraph in the main text – is courtesy of the Wikipedia article on the Camino de Santiago.  The caption:  "Way of St. James pilgrims (1568)."
Re:  "Calm water."  The Gulf waters were so calm because we got up and broke camp at 3:00 in the morning.  Later on in the day – owing to increased wind and the heat of the sun – the waters in the Gulf of Mexico get way more roiled.
Re:  Siestas.  Wikipedia noted that such short naps include the "traditional daytime sleep of Spain," while in America and other non-Mediterranean cultures the habit has caught on while being referred to as a "power nap."  The article included the image at left, with the caption:  "A painting of a young woman taking a siesta," or The hammock, Gustave Courbet (1844).