*   *   *   *
And now, back to "Operation Pogo:"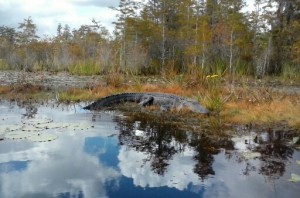 Operation Pogo was the first episode of my travel-venture "Into the Okefenokee."  This is a followup.
(The saga will conclude in Part III.  And just a suggestion: You'll probably want to read Part I first.)
As noted in Part I, I saw tons of alligator "cousins" – like the one basking at left.  (Usually on the ostensible shoreline, or slithering through the waters ahead of me.)
That first episode ended with me trying out one of those "free" campgrounds listed on Freecampsites.net, on Thursday October 22.  (Killebrew Park near Warwick.)
What I found seemed to be a modern-day equivalent of a Depression-era Hooverville:
I'm guessing [that] most people [who stay at such places] already have their Plan B…  Packing up and moving to the next-closest "free campground…"  The point is that after feeling distinctly uncomfortable at the idea of camping at Killebrew Park – even if there had been a space available – I had my own Plan B.
My Plan B was to drive up to nearby Georgia Veterans State Park that late Thursday afternoon.  (West of Cordele and just off I-75.) It's a beautiful park – and campground – but then I went to register.  Fortunately I'd just renewed my "Friends of Georgia" ParkPass, and so was entitled to one free night of camping.  I then asked how much it would cost to tent-camp otherwise.  (For future reference.)  The best available discount rate was $28.00…
On the other hand, Expedia said there was a nearby Budget Lakeview Inn (Sycamore) for $38.00. That may not be everyone's cup of tea.  But – having camped less than a year ago on a soggy salt marsh 12 miles out in the Gulf of Mexico – that wouldn't have been so bad to me.  (See 12 miles offshore, on the 8-day primitive-camping canoe trip last November 2014.)
Which brings up what I said in my first Mid-summer Travelog:
For the price you pay to camp these days – as Steinbeck did [in 1960] – you can get a nice Motel 6 with AC.  (And that's tent camping.  For what you pay for an RV or travel trailer, you can stay at a lot of Motel 6's.)
And just for the record, I've owned motor homes.  (Three in fact.)  So I know whereof I speak.
Which brings up the fact that on that Thursday night – October 22 – I discovered that my spandy-new 2015 Ford Escape offers plenty of room for sleeping.
But first a word about permits.  Before you camp overnight in the Okefenokee, you need a permit.  (See Overnight Camping Permits – Okefenokee.)  That costs $15 a night.  (Of which $6 is non-refundable.  And none of it is refundable if you cancel less than a week before the reservation date.)   Then I also found out Recreation.gov tacks on a $6 "reservation fee."
So for a grand total of $21, you may tent-camp in a swamp.  Which brings up again:  "For the price you pay to camp these days – as Steinbeck did – you can get a nice Motel 6."  (On the other hand, you might miss some of the gators, "slithering along.") Meanwhile, back at Veterans State Park, Thursday night.  (After registering…)
I had my tent, but wanted to get an early start.  So I blew up my air mattress and spread it – and my sleeping bag – in the back of my Ford Escape.  (I'd folded down the seats and moved the kayak outside.)  By moving the front passenger seat up and folding it up toward the dashboard, I had plenty of room in case of jimmy legs.
(The latter term refers to the Seinfeld Money episode.  In it – and perhaps ironically – "Jack Klompus drives the car into a swamp and Jerry returns to Florida.")
So anyway, I got a pretty good night's sleep.  Next morning – Friday October 23 – I left Cordele and covered the 160 miles to the Folkston entrance in about three hours.  I took my time getting ready, in part because my reserved camping shelter was only three miles away.
That is, in the time frame I had there was only one camping platform available, Cedar Hammock.  The nice lady at the main (east) entrance assured me I "should be able to reach it before dark."  I in turn thought her estimate was way off.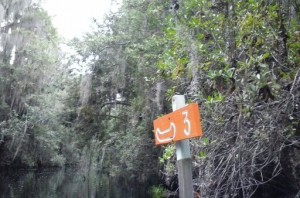 Remember that I'd made Mile-Marker Three – at right – in 54 minutes the first time I visited.  (See Part I.)
So this Friday, I thought I'd have plenty of time to paddle around that day, and might even make the Canal Run shelter and back. (See Permits, above.  That would allow me to "bisect" the swamp on a later trip, coming in from the Stephen C. Foster State Park – Fargo, to the west.  Or so I thought…)
But there was another reason I took my time getting ready that Friday morning.  I wasn't sure my "tagalong combo" was completely kosher.  (The rubber raft I towed behind my kayak, to carry supplies, noted in Part I.)  For one thing, according to a "liberal" reading of the park rules, I might be charged twice, for the kayak and the rubber boat.
So I operated on the theory, It's easier to ask forgiveness than permission.  I figured I'd leave the rubber boat – and supplies – in the car.  Then I'd paddle around happily during the day, and return to the entrance area a bit after closing time.  (6:00 p.m.)
It kind of worked out that way…  But my plan also ended up with me thinking that Monet guy could take his stinking water lilies and "stick 'em where the sun don't shine."
But we digress!!!
I'll conclude this venture in Part III, which means another "To be continued…"  Meanwhile you can consider this as well:  My Utah brother has a brilliant idea for further adventures next summer.  A 16-day, 500-and-some-mile, primitive-camping canoe trip down the Yukon River.
From Whitehorse, up through Lake Laberge – of "Sam McGee" fame – to Dawson City.
But for now, enjoy this lovely painting by Monet, of water lilies.  (And you can thank your lucky stars that you don't have to paddle your stinkin' kayak through them…)
*   *   *   *
 "Water lilies:"  Lovely to look at, but a pain to paddle through…   
*   *   *   *
As in Part I, the upper movie-poster image is courtesy of Swamp Water – Wikipedia.
I took the photographs of the first alligator basking on the "shore" and Canoe-mile-marker Three.
Also re: Mile Marker Three.  It's past the turn-off "canoe only" trail to the Cedar Hammock shelter.
Re: "travel-venture."  See also Travelogue … at Dictionary.com.
The "floating gator" image is courtesy of Okefenokee Swamp – GA | Kayak Trip … Paddling.net.
Re: "Lake Laberge."  In his 1907 poem "The Cremation of Sam McGee," Robert W. Service spelled the name of the lake as "Lebarge."  
The lower image is courtesy of Water Lilies (Monet series) – Wikipedia.
*   *   *   *