2017 featured 345 mass shootings under Trump, compared to 162 in Obama's eight years…
*   *   *   *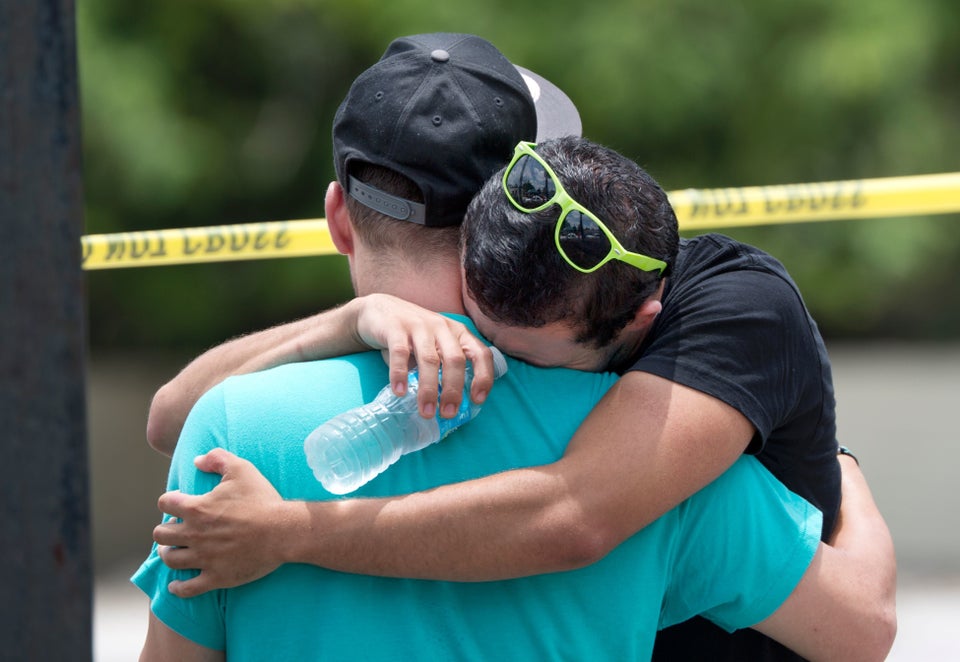 Remember June, 2016?  That's when then-candidate Donald Trump said then- President Barak Obama should resign, after the deadliest mass shooting in U.S.  That is, the deadliest mass shooting up to that point?  You know, the one in Orlando?  (Just to narrow it down a bit.)
Amid reports that a gunman had killed 49 people at a gay nightclub early Sunday, Trump could only respond by bragging that he'd predicted such a thing would happen, and arguing that the attack justified his proposed ban on Muslims entering the U.S.
In plain words, Donald Trump blamed President Obama for the shootings, linked him personally with the shooter, and implied that nothing like that would happen if he were elected president.  Not to mention saying Obama should resign after "his" mass shooting.
Which led me to recently Google "trump obama resign mass shooting."
That led me in turn to some interesting results:  Not least of all because it led me to Google "mass shootings since trump took office."  Briefly, there was apparently a "lull in the action" during the first few months of 2017, but then things heated up.  (And not in a good way.) 
For example, on March 18, 2017, a blogger, "Raptorman," posted What Happened to Obama Era Of Mass Shootings Under the Trump Administration?  Early in 2017 he bragged thusly:
It had been over 253 days since Donald Trump became President of the United States of America with no crazed mass murder shootings until the Las Vegas shooting.  A much longer period of time without a big mass murder shooting than under the previous administration.
"Raptorman" then posted a chart showing how such mass shootings had burgeoned under Obama.  (From in the low 20s under previous presidents, to 162 under Obama.)  He defined a mass shooting as involving "4 or more people."  But then came a post on April 16, 2017:  The U.S. Has Had 273 Mass Shootings in 2017 So Far.  ("And you likely didn't hear about all of them.")
That writer – Andrew Couts – also
The nonprofit Gun Violence Archive (GVA) counts 29 mass shootings across the U.S. just in September[?], 255 since President Donald Trump took office on Jan. 20, and 273 since the start of the year, while defining a "mass shooting" as "four or more" gunshot victims, not including the shooter.  At the current rate calculated by GVA, 2017 is on track to have more mass shootings than any other year since GVA began tracking gun violence in the U.S.
This was in response to the shooting at the "Mandalay Bay Casino in Las Vegas, killing 50 and injuring more than 400 in the crowd at the Route 91 Harvest Music Festival."
But since Couts' post came a mere month after "Raptorman's," something didn't add up.  So, for a more accurate count I checked 2017 deemed America's deadliest year for mass shootings, posted December 11, 2017.  It said, "According to Gun Violence Archive, a nonprofit organization that continuously tracks gun-related death and injury reports based on official records, there have been 345 mass shootings in America in 2017 alone."
So as it turned out, the estimate by Gun Violence Archive – noted by Couts in April 2017 – turned out to be chillingly accurate.  Which means that under Obama there were 162 mass shootings, while under Donald Trump, there were 345 mass shootings in 2017 alone.
Then came 2018, about which the New York Daily News said – last November 8, a week or so ago (the headline at left is from 1975) – that America's averaging almost a mass shooting a day in 2018:
There have been nearly as many mass shootings in the United States in 2018 as there have been days in the year so far, according to a nonprofit organization that records gun violence data.  The horrific attack carried out in a Thousand Oaks, Calif., bar on Wednesday night was the 307th mass shooting in America this year, according to the Gun Violence Archive, which classifies a "mass shooting" in which at least four people are shot, not including the shooter.
So again, under Obama there were 162 mass shootings in eight years. 
Under Donald Trump there were 345 mass shootings in 2017 and 307 in 2018.  (As of November 8, 2018.)  Which adds up to a grand total – for two years, not counting the rest of November and December, 2018 – of 652 mass shootings under Trump so far.  That's four times greater than Obama's eight years, in one-fourth the time.  (In a mere two years, for the math-challenged.)
And incidentally, the New York Daily News has been described as "flexibly centrist," not one of those "fake news" media types complained of by some Republicans.  For example, it endorsed George W. Bush in 2004, Barack Obama in 2008, Mitt Romney in 2012, and Hillary Clinton in 2016.  Which means that a claim of "fake news" would be hard to justify.  (To anyone except the most ardent Trump supporter, to which I would respond, "Fake news?"  Fake brain!)
But we digress.  The point?  All this calculating led me to the October 27 article, Why it's fair to ask whether Trump is to blame.  Senior political reporter Aaron Blake gave a lengthy analysis, which included this note:  "There is a growing sense of grievance among Republicans about the narrative that Trump might have some culpability for the postal bombs that were sent to many of his high-profile political foes over the past week."  Or for the spate of mass shootings.
But the Bible – that favorite tool of "Trump-humping evangelicals" – says otherwise.
Which is another way of saying that such a lengthy "Blake" analysis really isn't necessary.  At least not according to the Bible.  That is, Luke 6:38 provides a much better, much shorter answer:  "The standards you use for others will be [the ones] applied to you."  Or in a slightly different translation, "The measure you use for others is the one that God will use for you."
Which should give "the Donald" some pause for thought…
*   *   *   *
*   *   *   *
The upper image is courtesy of Mass Shooting – Image Results.  It's linked to the article, "Las Vegas Shooting Is the 273rd Mass Shooting This Year," which included these notes:  "The gun industry often uses mass shootings to rally sales, telling consumers that such events may lead to stricter gun laws," and that "Gun company stocks rose following the Las Vegas mass shooting."
Re:  Orlando mass shooting.  Somehow I got that one mixed up with the Stoneman Douglas ("Parkland") High School shooting.  Unfortunately, and as noted, it's been hard to keep track…
Re:  Trump blaming Obama, etc.  See also Donald Trump's Response To The Orlando Shooting Was Downright Horrific, Trump: Obama Was Maybe Involved in the Orlando Shooting, and Donald Trump Calls On Obama To Resign Over Orlando Shooting.
Re:  "Raptorman."  He may have chosen his blog-name from a character in the film Full Metal Jacket.  I too thought the Marine photographer was "Raptorman," but apparently it was "Rafter Man:"
In the book [The Short-Timers], "Rafter Man" got his name because during a striptease show in the mess hall, he got piss drunk and climbed into the rafters for a better view, then fell right onto a front row table of brass, spraying colonels and generals with their own beer.  The highest ranking general picked him up, then pulled up a chair and let Rafter Man sit with him, thereby impressing the other Marines.  The movie kept the nickname but didn't bother with the back story.
See Full Metal Jacket – Meaning of the names rafterman and Animal Mother.  There is also a book Full Metal Jacket Diary, by Matthew Modine, who played "Joker" in the film.
Re:  Luke 6:38.  I used the GOD'S WORD® Translation in the main text.  Other translations:   "The measure you use for others is the one that God will use for you;"  "you'll be evaluated by the same standard with which you evaluate others;" and in the King James Bible – the one God uses – "For with the same measure that ye mete withal it shall be measured to you again."
Then of course there's also the Golden Rule, set out by Jesus in Matthew 7:12 and Luke 6:31.  In the "negative form of the Golden Rule, or the "Silver Rule" as it is sometimes called," the rule reads:  "Don't do to others what you don't want them to do to you."  Then too there's Karma…
Re:   "Trump-humping evangelicals."  See "Trump-humping" – and Christians arguing with each other, in my companion blog, featuring the image at left.
The lower image is courtesy of Donald Trump – Image Results.  See also 'Mi Dulce' – and Donald Trump – made me a Contrarian.