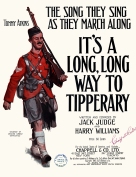 I'm now in Puente Villarente, about eight miles shy of Leon.  (In Spain, on the Camino de Santiago.) By the time we get there – tomorrow – we will have hiked 250 miles from Pamplona, in the 21 days since we left on September 13. (We took a day off in Burgos.) Unfortunately my tablet isn't good for the usual high-quality posts, so for now I'll try this more-primitive version.
The image above refers to one of the favorite songs on my iPod Shuffle. The one I sneak out every once in a while, "on the march." But I've changed the words to "It's a long way to Santiago!" (Santiago de Compostela that is.)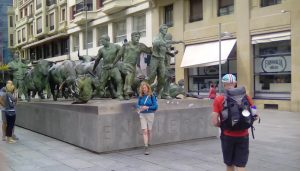 Here's a picture from Pamplona, showing two "turistas" in front of a statue commemorating the annual running of the bulls. It seems like an eternity ago.
The first 10 days after that – on the hike – were pretty miserable. My left foot constantly throbbed, until it blistered up and got tough. But the day off in Burgos helped a lot. And since then we've made good progress. Still, we had to implement a Plan B, which involves renting bikes in Leon and cycling the remaining 194 miles.
But for now we're happily ensconced in Puente Villarente, a city named for the old Roman bridge shown below.
I'll try to either update or add some such primitive posts, but if not, I'll be back home on or about October 17.